The collection and variety of Albuquerque artificial grass Global Syn Turf products open up thousands of possibilities to customers. As a local New Mexico branch for this great manufacturer, we get a great deal of gratification from sharing our astonishing products with our friends and neighbors.
Our artificial grass putting greens are the best if you are a golf lover. Whichever product you choose, you can expect almost no maintenance and a high-performance
synthetic grass installation from the industry's leading artificial grass manufacturer. We provide the ultimate synthetic surface for home putting greens, artificial lawns, playgrounds and other solutions. Global Syn-Turf is your source for your Albuquerque synthetic grass. We are gratified to provide residents of Santa Fe with putting greens and artificial landscaping options that supplement value to their relaxation time, their foundation and their residences. Global Syn Turf special grass is ideal for children and pets
because of its exceptionally absorbent surface. Study more about our New Mexico artificial grass today. Envision your new lawn or golf course without bulky equipment, costly irrigation, chemicals or energy depleting maintenance.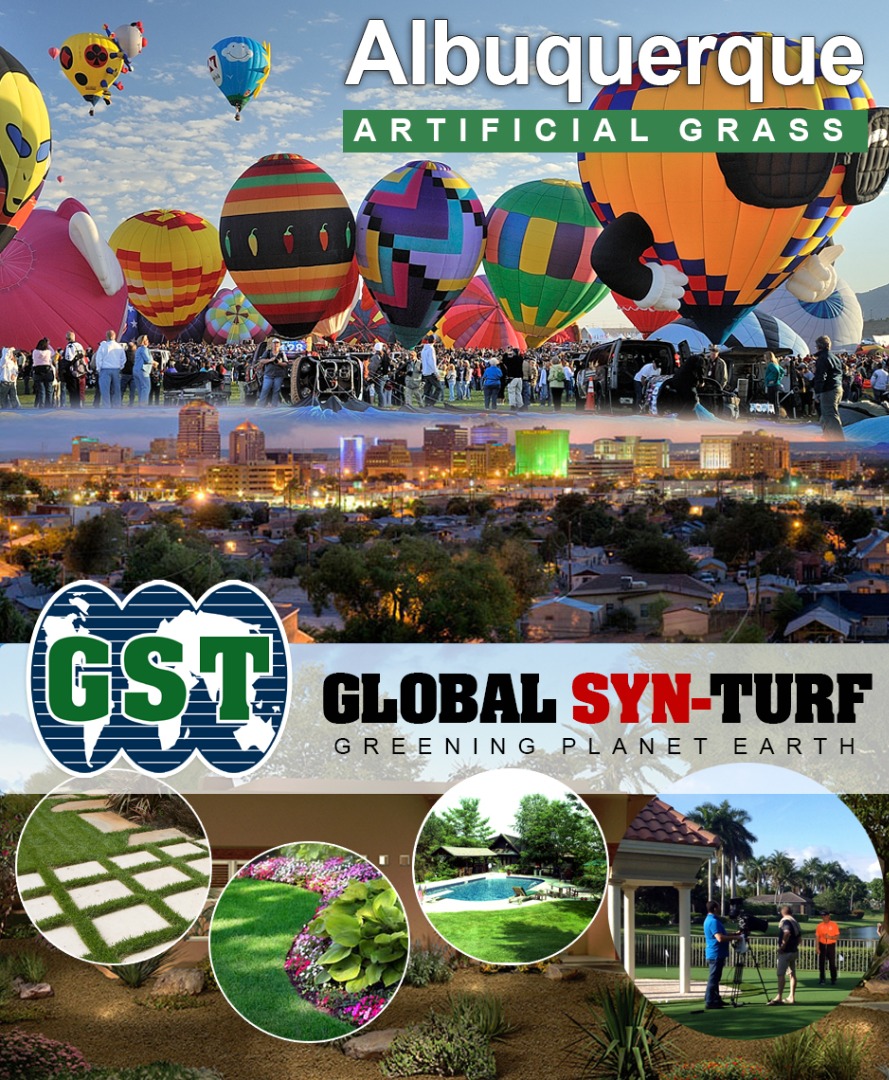 889
1080
As you probably know, Aggie Memorial stadium in Las Cruces NM events have been severely restricted to prevent harm to the native grass, but since the start of 2014 season, and thanks to the fields artificial grass renovation, this will not be a matter anymore. While most homeowners wonder if can afford to beautify their yards with something as substantial and amazing as Global Syn-Turf grass, the possibility is much closer than many believe.
Global Syn-Turf is in the forefront of the artificial grass industry in United States with multiple fields installed and in use today in Albuquerque NM. In addition to providing
the best of artificial grass products in the Albuquerque area, we help you start your project immediately.
For commercial applications, Global Syn-Turf in Albuquerque New Mexico offers technologically-advanced products, expert consultation, and top-quality artificial lawn installation to achieve the most intricate commercial projects. No matter what your project is, a playground with strict safety requirements or a heavy-use pet facility, like the Albuquerque Animal Humane facility, GST in Albuquerque New Mexico has the expertise. With Global Syn-Turf artificial grass installations, you can count on equipped installers
to look into the many elements of the current yard space, to plan how to form the ideal yard for your unique needs.
Our synthetic grass is manufactured from the best grade elements and constructed to stand up to all the seasons. With over four decades in business, Global Syn-Turf has developed to be a trusted and regarded name in our industry. Our home synthetic putting greens emulates the finest Albuquerque golf greens.
Global Syn-Turf has been a greatly expanding industry for the last ten years in many parts of the country. We manufacture artificial grass of high-quality and sustainability. The combination of our highly qualified staff, state-of-the-art equipment and high-quality products gives us the ability to produce high-quality products at very competitive prices. Our
Albuquerque artificial grass for backyard or commercial use looks outstanding.
Global Syn-Turf of New Mexico is thrilled to offer Las Cruces, El Paso, Rio Rancho, and Santa Fe residents a secluded practice facility via our golf putting greens. Get in touch with us for putting greens or artificial grass that covers soccer, football, other sports fields and more. Please contact us from more information.
It is easy to spend many hours and a lot of money on yard work. Albuquerque NM as other Southwest cities is experiencing a transformation from natural turf to artificial turf. The urge for this is the need for water conservation, the need to be environmentally-friendly in maintenance, costs and overall appearance of sports fields, lawns, and the heightened expectation of playability and use of sports fields today.
Our Albuquerque artificial grass is the identical on all of our industrial and home indoor and outdoor putting greens and artificial lawns.
Our Albuquerque NM putting greens are the finest customs design artificial grass indoor golf greens and backyard golf greens in the industry. Discover our commercial and residential golf greens and pet turf.
Playing gold is great, but also, we can make your entire yard attractive and areas around your swimming pool with our artificial grass. Artificial turf can boost the value of homes in Albuquerque. Using GST artificial turf on both commercial and residential applications, you are making sure customers in Los Lunas, Artesia, Portales, and Clovis receive the finest synthetic yards and greens.
The market for artificial grass is already over $500 million a year and is expanding very quickly. Multiple reasons lead many homeowners and businesses to choose Global Syn-Turf and the new generation of artificial lawns over sod. Aesthetic, environmental and practical reasons feeding industry increase and smart homeowners, pet resorts
and shelters, daycare centers, and schools agree that today's top-quality synthetic grasses look just like the real stuff.