Artificial Grass Industry surfed through the recession unscathed aided by quickly growing demand due to cost reduction and quality advancements in sports venues, cities, commercial and residential property owners and schools. The continued weakness in construction markets and schools budget decrease, rapid adoption of artificial turf has kept the industry growing. According to Technavio, a global technology research and advisory company, the artificial grass market in the Americas will reach 440 million dollars by 2019, growing almost 13%.
Due to climate changes and drought conditions in the United States, the demand for synthetic turf in private and commercial sector steadily increases. Artificial grass is also popular in South America, Brazil, and Argentina, where some of the major sports clubs use synthetic turf for training. Global Syn-Turf, a leading manufacturer in the United States, with the largest inventory of turf across the country, sets standards in quality, cost-effectiveness, and technological enhancements. Environmental concerns in drought-sensitive states like California, Texas, Arizona, Nevada and new Mexico makes government officials and cities commissions sign new legislations that permit artificial grass installations and provides rebates for replacing water-thirsty lawns with drought-tolerant materials.
Artificial Grass market in Europe, Middle East, and Africa expected to reach 750 million by 2019. Products have been used in European Championship and Champions League. More than four thousand sports fields were equipped with synthetic grass in 2014, and its number rapidly increases. In Germany, sports clubs, and municipalities have recorded a significant increase in the number of installations. Interest in residential turf applications due to its environmental benefits is quickly rising.
East Asia, South Asia, Southeast Asia, Oceania, and Russia is the fastest growing market for artificial grass. This market is expected to hit 790 million dollars market edge by 2019. The lucrative market for synthetic turf is expected to grow double-digit.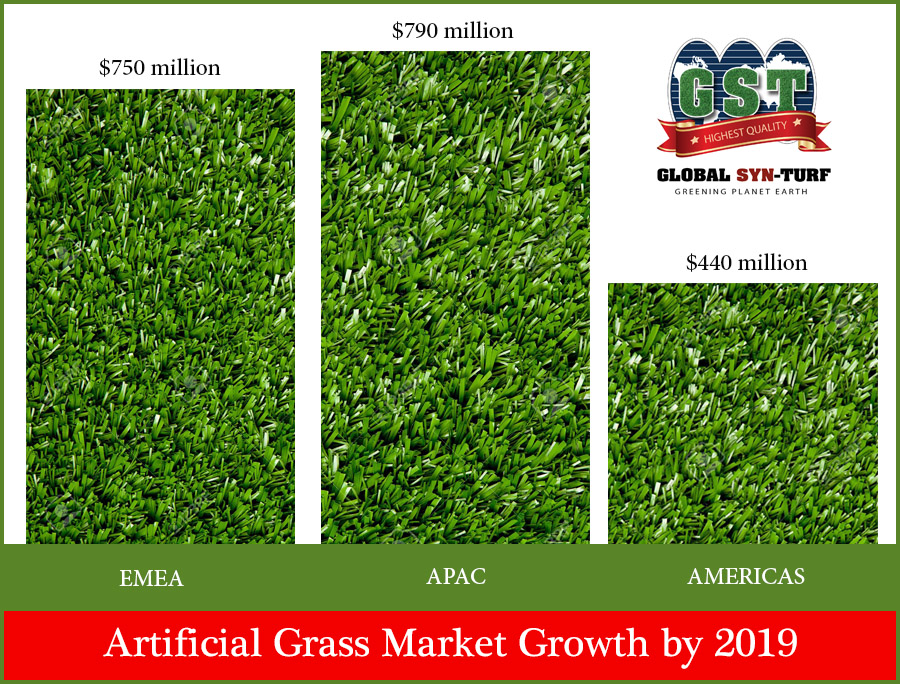 900
684
A wider choice of artificial grass products in terms regarding designs, colors, and infills is offered. New technology attracts property owners to turn their lawns into water-saving, drought-tolerant, zero-maintenance landscapes. While environmentalists argue about benefits of synthetic turf, water conservation concerns, and cost-effective factors override traditional concepts of natural vs. artificial.