California doesn't look green anymore. In the historic state of drought, Californian lawns are now on the edge of extinction. Homeowners and communities are continuously looking for alternatives and the artificial grass looks more and more attractive.
Drought landscaping options are limited. Some Californias tore down their lawns and replaced it with native plants. Others simply ignored the fact and let their grass turn brown and die. The more progressive ones turned to the artificial grass and kept their yards looking as green as the water drought never happen. For most, the transition wasn't expensive. The rebates offered by California's water agencies covered more than a half of expense the soil and grass removal and new turf installation would cost otherwise.
Artificial grass is hassle-free and doesn't require water to keep beautiful, always green appearance. It doesn't need trimming, edging, and fertilizing. Potentially, artificial grass will help to cut off about 70 percent of California's water usage.
Artificial grass provides something native plants and cement can't, - safe playgrounds and comfortable outdoor entertainment spaces. Artificial grass has been a growing trend in California; people understand it is a viable alternative to water-thirsty lawns, increasing water bills, and sky-rocketing penalties.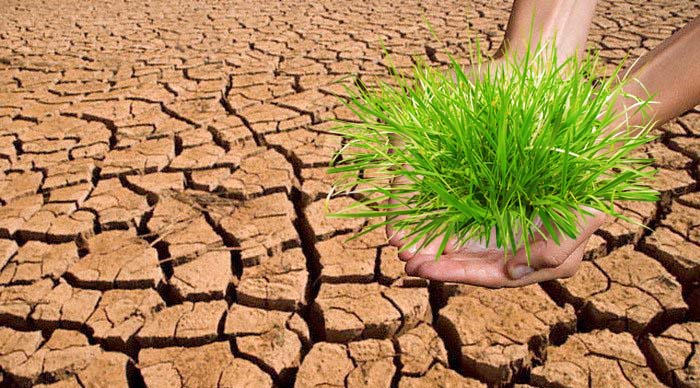 California drought green grass dry soil landscape alternative landscape cracks land
700
388
Less than ten years ago, synthetic grass was primarily used by companies, municipalities, and in the sports industry. Synthetic grass was installed on schools stadiums, sports fields, public parks, and playgrounds. Today, artificial grass is available to every homeowner.
Artificial grass technology is rapidly developing. Fake grass doesn't look fake, and it's almost impossible to tell a difference between natural and artificial lawn. The drought has changed the way people approach landscaping. The combination of plants, mulch, and artificial turf can create a beautiful garden and benefit from less water, zero-maintenance grass alternatives.
Residents are now more than ever thinking about changing landscapes, but it is often too overwhelming to be faced with the task without the help of professional landscaping company. Most will often turn to the artificial turf just for the curb appeal, instead of taking a challenge of a California native based landscape.
Keeping a curb appeal along with a sustainable landscape is a difficult task. People usually enjoy the natural landscape better than a traditional lawn, but it takes time, money and effort to create beautiful and functional outdoor space. Most homeowners prefer a curb appeal to all other considerations, and synthetic lawn solves the dilemma instantly.