On October 21, 2014 we have been selected for the 2014 Best of Hayward Award in the Lawn & Garden Equipment category by the Hayward Award Program.
As the leading manufacturer of artificial grass in United States, we manufacture, store and distribute the largest variety of synthetic turf in the industry. Our certified production plants in the United States and overseas produce synthetic grass for lawns, sports fields, putting greens, playgrounds, traffic medians, roof-tops, and more. All artificial turf products have passed vigorous tests and far exceed government standards. The 15-year warranty with a projected life of 20 years under normal use is provided with every product.
All Global Syn-Turf artificial grass products are eco-friendly and 100% lead-free. They have been tested by independent laboratories in respect to quality, safety, flammability, handicap access and more. We have performed vigorous UV, wear and tear tests on our products to meet the highest standards of synthetic turf industry.
By producing unique products, we manage o continuously re-invent ourselves. When it comes to the artificial grass, the biggest concern is the delivery speed and availability of synthetic turf products. We haves the largest inventory of artificial grass in United States, available in our storing facilities across the country. As the demand in the synthetic grass grows every year they never stop expanding the range of products, they offer. Keeping each species of artificial grass on the shelf helps to provide the continuous service to partners and distributors. It eliminates the lack of consistency most other artificial grass manufacturers experience.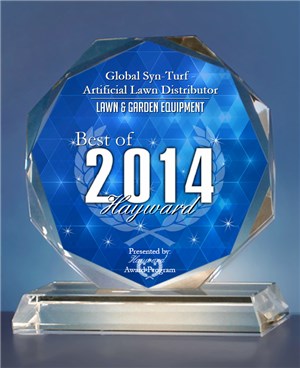 300
368
Global Syn-Turf is based in United States with headquarters in Hayward, California. The warehouses in New York, Chicago, San Antonio, Los Angeles, Phoenix, Orlando, Miami, Las Vegas, El Paso and more makes delivery easy and convenient.
Each year, the Hayward Award Program identifies companies that have achieved exceptional marketing success in their community and business category. These are local companies that enhance the positive image of small business through service to their customers and our community. These exceptional companies help make the Hayward area a great place to live, work and play.
Various sources of information were gathered and analyzed to choose the winners in each category. The 2014 Hayward Award Program focuses on quality, not quantity. Winners are determined based on the information gathered both internally by the Hayward Award Program and data provided by third parties.