We are thrilled to be a part of a future of Fort Worth, Texas! The park on Magnolia and Henderson is one of its kind parks in the United States, created by efforts of local enthusiasts and thousands of people in the community. Two weeks ago, it was just a vacant lot left alone for future development. Today, it's a beautiful small oasis for individuals and families to take a break and get together to talk, play and enjoy outdoors.
Fort Worth, Texas has more than 270 city parks, and according to Open Space Master Plan signed in 2015 by the City of Fort Worth Parks and Community Services Department envisions to restore and maintain the viability of the park, recreation, and open space systems, provide new parkland to meet recreational needs in developing areas of the city, and improve the variety of park and open space opportunities available to the community. But there are small empty places throughout the city that can be transformed into restful islands, the monument of community efforts, just like the Magnolia Park. This park is created 100 percent by donated materials and build by local companies and community members.
Colorful blue containers are neatly tight together to form benches. It has picnic tables, trees and a musical wall of empty food cans for kids to have fun. The poles with solar lights are decorated with neon-colored zip ties from the public art project of 2016.
Antique 100 years old bricks discovered under the Main Street pavement add character and charm to the entire project.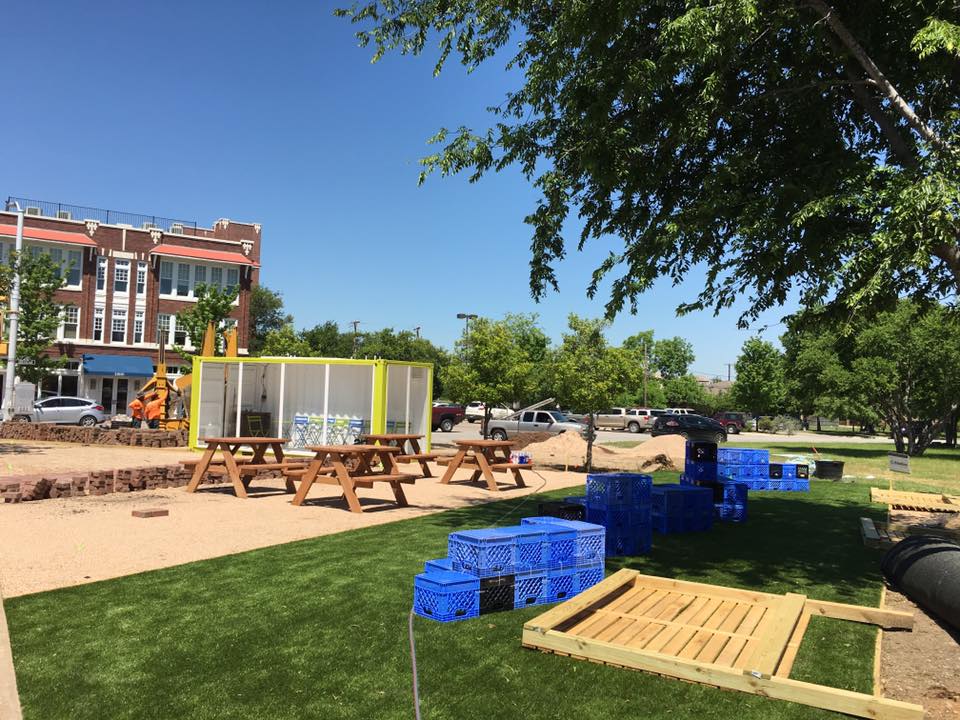 Community park, micropark, Magnolia park, children park, green park, playground, artificial grass, fake grass, synthetic turf, Forth Worth, Texas.
960
720
"As we were laying the brick over the weekend, the public was walking by, and they would stop, lay a few bricks, put a little bit of sand down, wipe over the top, and then get back going to brunch. The entire project was taken the hundredth of hands together, " - said Megan Henderson, Near Southside Inc.
Artificial grass, donated by Global Syn-Turf, and installed by SPSD (Site Planning Site Development) of Arlington, Texas, offers safe, lush, luxurious surface to enjoy and play on. Synthetic grass doesn't need watering maintenance, fertilization, mowing or edging to look endlessly green and beautiful in any weather. It stays cool under the hot Texas sun and dry on a rainy day due to its excellent drainage capacity.
Global Syn-Turf synthetic grass has been installed on hundreds of thousands private and commercial properties across a county. It offers super-realistic, soft, safe, environmentally friendly, water-less solution the benefits environment and lives of millions of people worldwide. It saves thousands of dollars in maintenance, water costs, and repairs. Global Syn-Turf offers more than 75 different types of artificial grass with all imaginable colors, heights, and weights.