Global Syn-Turf, Inc., the artificial grass industry's leading manufacturer and supplier, has launched five new eco-friendly products to their line of artificial grass innovations. The new products continue the company's reputation for producing state-of-the-art artificial grass technologies and accessories, and anticipating the needs of artificial grass installers worldwide.
The new artificial grass innovations being launched are: Turf Super Glue for seaming, seaming tape, bender board and stakes, galvanized spikes, and golf cup caps. The new products are to be used by artificial grass installers in their synthetic turf and putting green installations.
"Global Syn-Turf loves a challenge, especially when it involves inventing new and improved industrial artificial grass products," said Rachel Brady, Global Syn-Turf's Sales and Marketing Manager. "After a few experiments, we've perfected the products, which are now ready for popular consumption. We believe these new accessories will be very useful to the public and an integral component of our success this year and beyond" said Ms. Brady.
The first product, Global Syn-Turf's firm, high-quality seaming glue, Turf Super Glue, is an effective and environmentally friendly adhesive for seaming and binding artificial turf to various surfaces.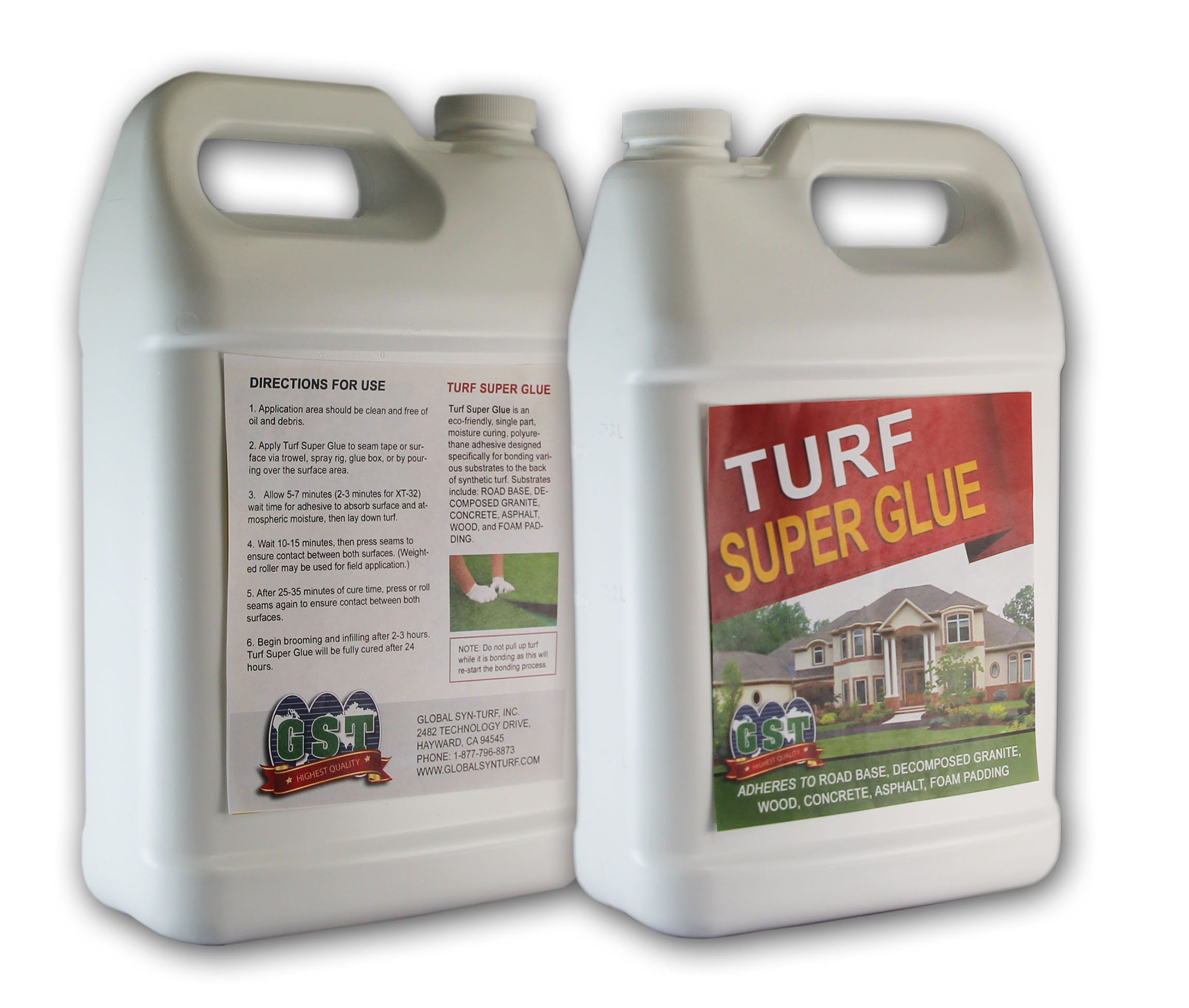 2299
1949
Perfect for seaming together sections of artificial grass, synthetic pet grass and putting greens
Solvent-free, eco-friendly, non-flammable, non-toxic, and non-hazardous formula
Glue can also be used for bonding artificial turf to various substrates, including road base, decomposed granite, crushed gravel, concrete, asphalt and wood
Will not disintegrate even in extreme weather conditions
Easy to apply and clean up
The second product, Global Syn-Turf's strong-yet-pliable seaming tape, is intended to be used in conjunction with Turf Super Glue, and is placed underneath the artificial turf, binding it to various substrates.
Suitable for use over decomposed granite, crushed gravel, concrete, and shock pads
Ideal for all types of turf applications and absorbs glue through the entire surface.
Using seaming tape in conjunction with Turf Super Glue will yield the perfect seam every time
According to Rachel Brady, "The Seaming Glue and Seaming Tape are great additions to our line of artificial grass adhesives, as they are perfectly suited for use in many different lawn configurations, and can be used with both putting greens and standard artificial grass surfaces. These new and effective artificial grass adhesives position Global Syn-Turf as the very best resource for installers looking to increase productivity with better adhesive solutions for their artificial grass installations."

Global Syn-Turf's beautiful new bender board edging is the third product being launched this week. Bender board provides a beautiful wood-grained edging for your artificial grass installation.
Provides a stout partition between mulch beds, concrete and artificial grass
Sturdy structure makes it resistant to weather, fading and pets
Suitable for straight, curved, and irregular edges
Flexible and easy to install
To be used in combination with the bender board are their sturdy and inconspicuous bender board stakes. Bender board stakes are polypropylene and are to be placed every two inches along the bender board edging. Their brown color will blend in with your bender board and the landscape's circumambience.
Ms. Brady stated, "We recognized a need our customers had for a high-quality, affordable, and timeless artificial grass edging, and designed a bender board to fulfill this very need. Whether customers are planning to use it to differentiate their artificial grass installation from a raised layer of mulch, or to block weeds and foreign plants from growing into their artificial grass areas, this bender board product is the perfect solution. Coupled with the bender board stakes, a natural, wood-colored edging is now an easy aesthetic for every landscaper and artificial grass installer to accomplish."
The fourth product, galvanized spikes, is a great choice for securing artificial grass seams and edges.  The steel spikes (nails) are resistant to rust and extreme weather and have a galvanized finish. The galvanized spikes are multipurpose, suitable for securing various surfaces.
"We are very excited to expand our accessories line to include the galvanized spikes. The galvanized spikes provide a solution for artificial grass installers who prefer an alternative to staples," said Rachel Brady. "Ultimately, this particular innovation is a means for Global Syn-Turf to begin offering more fastening products to the turf industry, and will allow us to bring reliable Global Syn-Turf products to installers everywhere—irrespective of their installation preferences."
And the last product being launched this week is Global Syn-Turf's specially designed, eco-friendly Golf Hole Cap.  This product provides a firm-yet-easily-removable barrier between your golf hole and the environment.  The universal Golf Hole Cap is designed to fit regulation size golf cups, and is constructed with sturdy, durable plastic, with built-in, reliable UV protection, ensuring that the cap will resist fading and disintegration.
Firmly sits in the golf cup and will not be dislodged by heavy gusts
Texturized top
Repurposes your putting green for non-golf activities by covering the golf hole
Will fit any PGA, USGA, or other Standard Regulation Golf Cup
Prevents leaves, debris and liquids from falling into the hole
Prevents pedestrians from injuring themselves by stepping into the hole
On the new golf hole cap product, Rachel Brady stated, "Our new golf hole cap is the perfect solution for protecting your putting green. Not only that, it can serve to repurpose the putting green for alternative activities, such as playing with your kids or dog, or entertaining guests – all you have to do is place our golf hole caps over the golf holes, and you're putting green is instantaneously transformed into a generic turf surface for all kinds of non-golf activities. Global Syn-Turf places importance in usability; as such, the Global Syn-Turf golf hole cap enables homeowners with putting greens to maximize the value and use they get out of their back yard putting green properties."
Global Syn-Turf's products are voted the best artificial grass for commercial and residential properties. The company creates durable and safe surfaces. No matter what the conditions or climate, Global Syn-Turf synthetic turf can withstand high usage, risk-free. And factors such as this are the motivating causes of why people are saying that Global Syn-Turf synthetic turf solutions are setting standard with innovative technologies specifically developed to guarantee the health and safety of its sportive users. If you combine the practical applications, sustained smoothness, and uniform padding, with the health and safety benefits, the cost of installing Global Syn-Turf artificial turf goes from that of an expenditure to that of an investment.