Spring may have many people racing for the barbecue grills, family picnics, and a butterfly watching on a Sunday morning; there are as just as many who hanker after the invigorating qualities of brisker temperatures: bolstering hikes and windswept adventures, all followed by a mad dash back to the backyard to play and enjoy a cup of coffee.
Inspired by this love of America's great outdoors, Global Syn-Turf Cashmere collection comprises everything needed to combine style and softness with cushy, delicate multi-color fiber to adapt a native beauty of soft, lush, evergreen grass.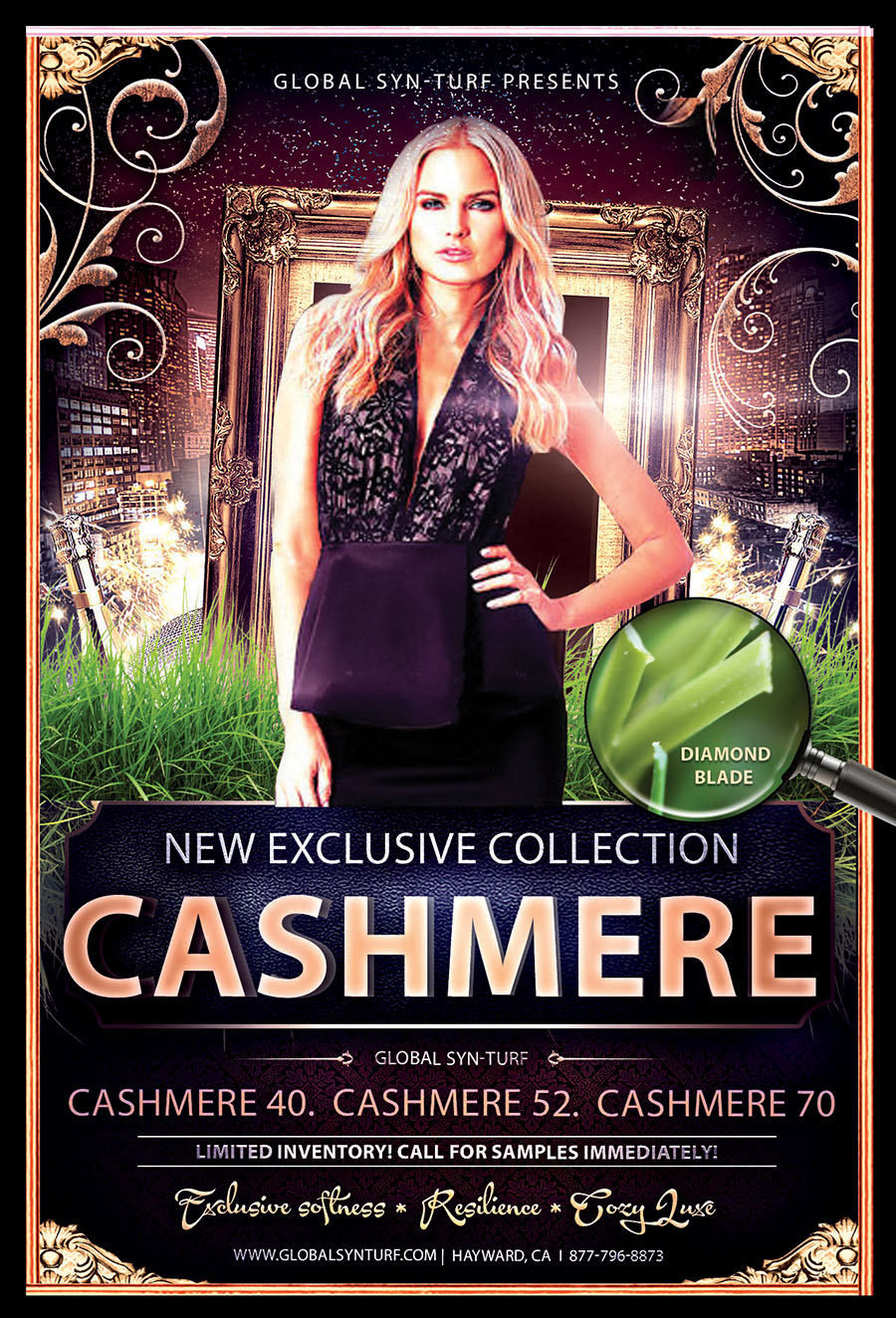 Ultra soft artificial grass, landscapes, playgrounds, decks, patios, balconies, roof tops, Cashmere collection synthetic grass.
900
1324
Featuring color combinations of ever-stylish field and olive green, the Cashmere collection works effortlessly together to echo the deeper colors of the changing season while ensuring never fading greens that will add warmth and cheer to bleak days and dull weather.
With a distinctly natural feel, the collection employs synthetic grass fibers that have been produced to exceed governmental standards in quality and environmental benefits lending a traditional touch to the modern landscape. The emphasis on texture creates a look that's as well suited to the long hours and sophisticated pace of city life worked off by aimless walks through changing fields.
Those on the endless quest for the Holy Grail of artificial grass - the perfect multi-colored fibers with double thatching to add a splash of timeless beauty. You need to look no further since styles within the Cashmere collection are made from the finest fiber with elements including brown and green spirals of thatch making it ideally suited to cozy luxe as well as dressed down comfort. And for the best of heritage trend, the field, and olive green Cashmere will add a sophisticated yet deliciously cozy finish to any landscape. It's all in the details.
Cashmere collection is a result of a revolutionary technology breakthrough in synthetic grass construction. It combines the best features of realistic appearance, beautifully blended colors, soft-to-the-touch feel, superior resiliency and the advanced yarn technology. Cashmere collection provides the best performance, greater resiliency in a durable synthetic grass landscape products with an expected lifespan of 20 years, and warranties of 10 years and includes four products - Cashmere 40, 52, 70, and 75. Cashmere artificial grass products are recommended for virtually any landscape, pet or playground application imaginable.