Hurricane Matthew is rushing East Cost residents out of state. The emergency evacuation in Florida, South Carolina, and Ocracoke Island in North Carolina started on Wednesday, November 5, 2016. Officials warn press public to get emergency supplies kits ready and listen to local emergency agencies' directions. On the latest updates, President Obama visited the Federal Emergency Management Agency headquarters this Wednesday and asked affected areas residents to take evacuation orders seriously as the storm potential can have a devastating effect.
Hurricane Matthew has been declared as the stronger Carribean storm of the last decade. Causing 11 death across the Caribbean, Haiti included, it is expected to become a Category 4 storm near Florida with 15 inched of rain and up to 15 feet storm surge. Category 4 storms on Saffir-Simpson Hurricane Scale is considered the second higher hurricane classification category. It is the second extreme storm after the Hurricane Ike (2008) storm after category 5 Hurricane Katrina in 2005 and Hurricane Sandy in 2012.
On November 4 Hurricane Matthew smashed Cuba where it downed trees, flooded the ground with feet of rain and swamped streets. Along with killing citizens, it tore roofs, sheared walls of houses and dumped up to 40 inches of rain on Haiti, which is slowly recovering from a disastrous 2010 earthquake and a cholera outbreak.
Officials expect large waves along the entire coastline causing flooding. Damaging winds will occur no matter where is the center of Matthew, offshore and landfall. Structural damage is possible as well as power outages in affected areas. The other threats include rainfall flooding and tornadoes.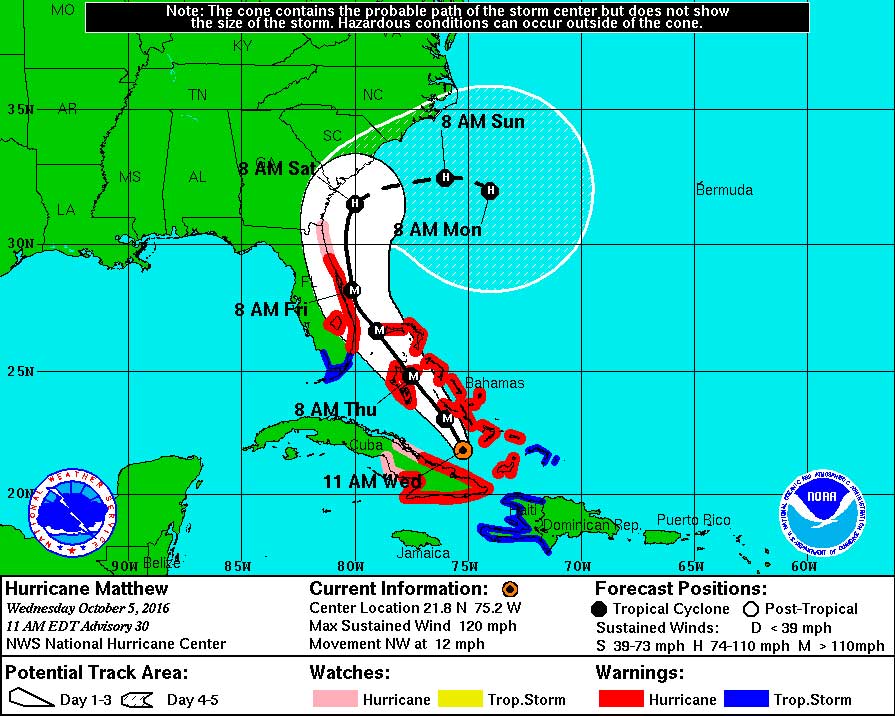 Hurricane Matthew map East coast Florida South Carolina North Carolina. Red zone
895
716
A mandatory evacuation has been ordered in Brevard County, Florida. Voluntary evacuations have been initiated in St. Lucie County. Residents in Charleston and Beaufort, South Carolina have been ordered to leave this Wednesday. About 315 buses will be in North Charleston to take people out of the area. Georgetown and Horry counties evacuations are planned on November 6. Several Greenville schools have been designated as alternative shelters. In Georgia, Gov. Nathan Deal has declared a state of emergency for counties near the Atlantic coast.
By Wednesday, the threat to the Northeast United States seems to significantly diminish, but it's not ruled out yet.
Due to the emergency situation in Florida, Global Syn-Turf's East Coast Distribution Center and Warehouse in Jacksonville, Florida will be closing early on Thursday, and all Friday. For additional information, please call (877)-796-8873.