Despite the drought officially ended by Gov. Jerry Brown, Mediterranean climate in major parts of California remains the same. Water demands in warm, hot, dry summers and mild, moderately wet winters always exceed the water resources. A five-year drought raised concerns. It costs the state economy billions of dollars. It stressed forests and left more than 100 million dead trees behind. But the effects are far more deadly than anyone could imagine.
Pumping the underground water flattened the aquifers (underground layers of water-bearing rock, sand, and gravel.) "The deeper basins collected water over thousands of years" - said Alan Hayes, the National Weather service hydrologist. - "If we have another dry season - you can easily get back into trouble again. The situation is untenable." According to Hayes, the ground is sinking two feet a year, and it will take decades for aquifers to recharge fully.
If we thought the drought is over; not so fast. Water in California is always scarce. It's not anymore a catastrophic environmental disaster, but it doesn't make the fact less worrisome.
Public Utilities Commission will review the reinforced drought plan in May.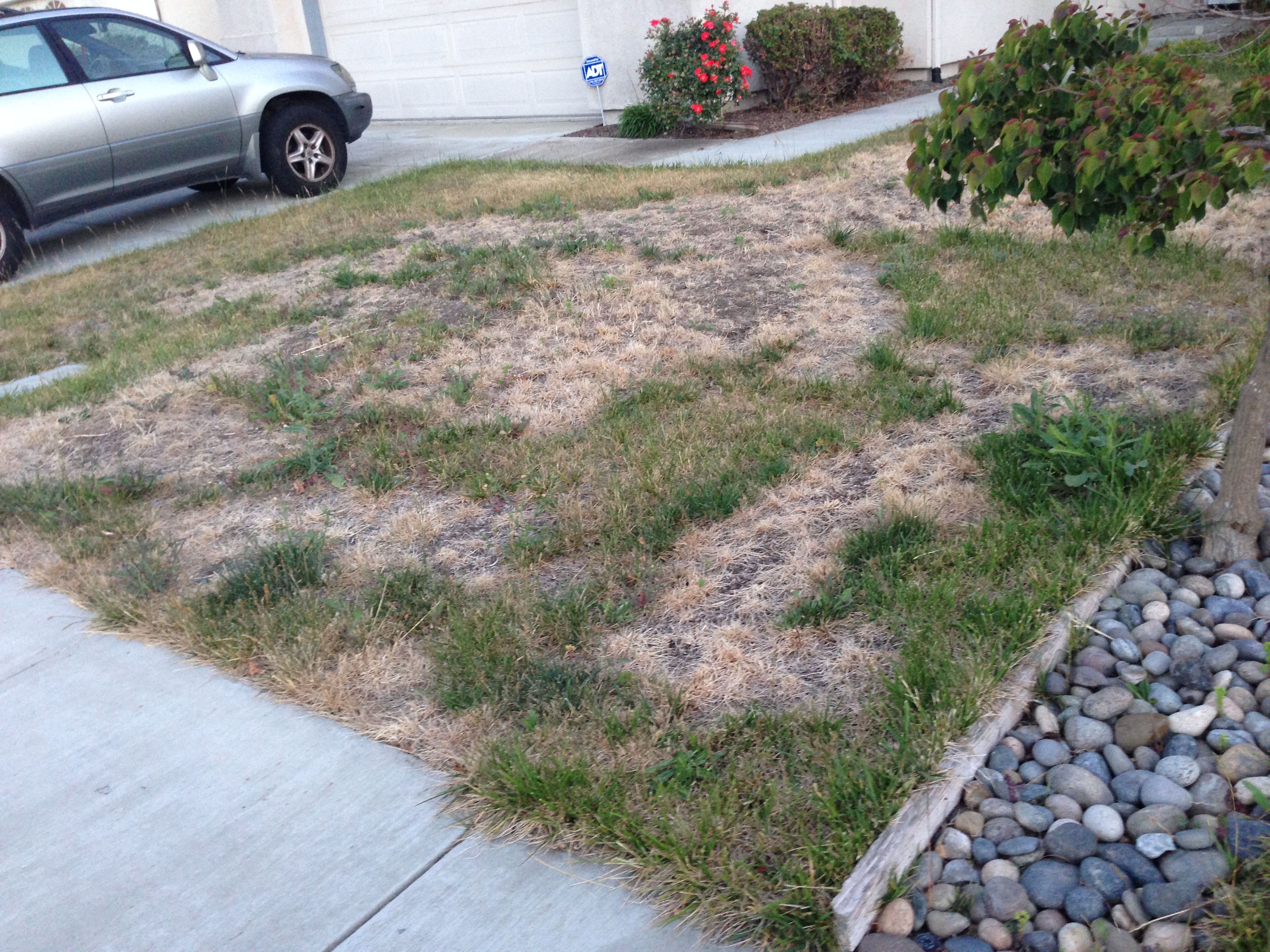 California drought. Brown bald lawn in Bay Area.
3264
2448
But drought suggestions remain the same.
Don't hose off sidewalks and paved surfaces. Use a rake or a broom instead.
Keep your sprinklers off after rainfall.
Keep your appliances in check to prevent leaks.
Stick with a drought-tolerant landscape.
Mulch your garden every year.
Invest in artificial grass.
The battle over artificial grass has been won during California drought. HOAs and cities accepted synthetic turf as an environmentally safe alternative to traditional lawns. While most Eastern states residents are still struggling with local authorities, Californians today can enjoy the benefits of modern landscaping.
For most people in the state, water conservation became a way of life. Those who was hit the most by its adverse effects will never waste water again. Thousands of yards have been transformed to drought-tolerant. Millions of showers, leaky toilets, pipes, and faucets have been fixed. Thanks to Gov. Jerry Brown and his administration. But only people themselves and their raised awareness helped to overcome the last five years disaster.