Dallas, Texas - Global Syn-Turf, a leading manufacturer of synthetic turf and related turf installation and maintenance supplies in the United States, has announced the grand opening of a new distribution center in Dallas, Texas dedicated to the Dallas-Fort Worth-Arlington metroplex, the largest inland metropolitan area in the country.
The new warehouse and distribution center spans 16,000 square feet and serves as the primary shipping and local pickup hub for Northern Texas and located at 1701 Vantage Dr. Carrollton, Texas. The facility gives access to more than 55 artificial grass SKUs, as well as product staging, kitting, and customizable consolidated packing service. The center represents Global Syn-Turf's commitment to sustainability and highlights 100% Lead-Free, eco-friendly artificial grass, tools, and supplies for effective and expeditious installations.
"The opening of the brand-new distribution center in Dallas is exciting as we aim to support our customers' needs across Dallas, Collin, Denton, Ellis, Hood, Johnson, Hunt, Kaufman, Parker, Somervell, Rockwall, Tarrant, and Wise County," - stated Rachel Brady, sales and marketing manager at Global Syn-Turf. - "The central location will improve the region's access to inventory and intensify the services we offer to our distributors in the local area."
Securing efficient use of water supplies is the most economical and environmentally-wise plan to support the delicate Texas ecosystem. While water steams produce enough water for animals and plants, the overuse of water causes springs to dry out, threatening wildlife. As air and ocean temperatures climb, more costly weather-related disasters will happen in the state, more prolonged droughts and more extreme rainstorms, excessive heat above 120, scientists from the University of Texas say.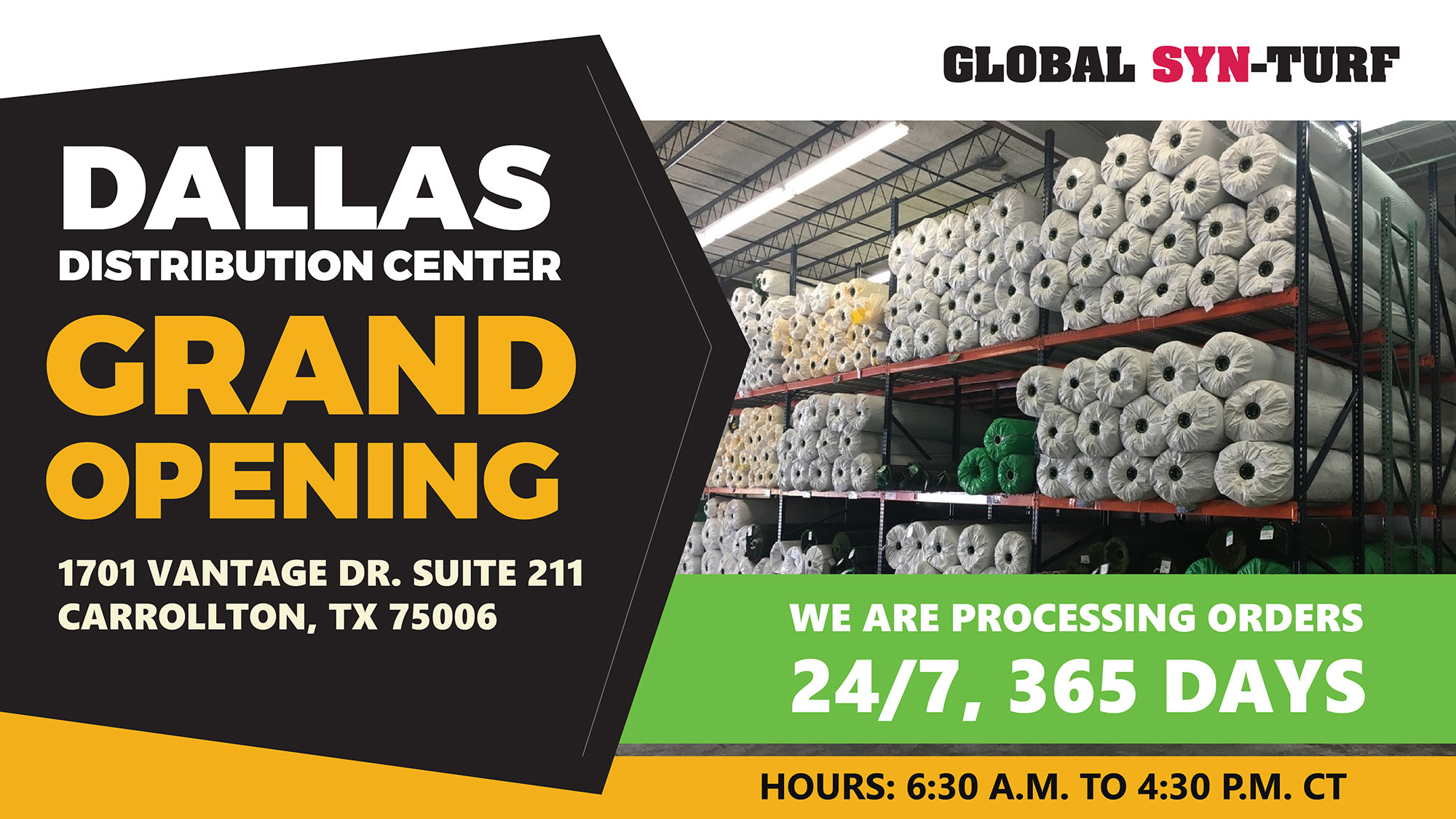 Dallas Artificial Grass Distribution Center and Warehouse Grand Opening
2000
1125
High temperatures, soil dryness, geography, and the presence of frequent and long-lasting high-pressure systems that suppress rainfall in Dallas-Fort Worth-Arlington metroplex area, multiply the certainty of severe droughts, warn scientists. The region has more than two hundred years of history with dealing with droughts and climate hazard consequences. While uncertainty is a part of climate models, there is consistency in weather changes in Texas that falls along the forecasting scenarios. In 2018, Dallas-Fort Worth is in the minds of a severe drought for the first time in years, and experts say it's just a start.
For now, the drought in Texas affects farms the most, but homeowners also suffer, as their lawns start splitting and foundations start cracking and shifting. When buildings foundation shifts, it damages doors, locks, and plumbing. The summer heat and dryness are brutal to region's lawns and gardens. You may see no green lawns unless it's synthetic. Replacing lawns with drought-tolerant plants and artificial grass becomes the most popular practice. It supports administrative water-conservation programs while always providing a green, lush look to the outdoor spaces.
"I am proud to announce the grand opening of Dallas distribution center. This facility will allow us to render faster turn-around times and high-grade service to our customers," - said Shannon Beck, a Vice President at Global Syn-Turf. "We are excited to join the local community. We understand that environmental safety concerns run deep in this region, and we share the same passion. I am certain the decades of experience, professional team and our large selection of synthetic grass will empower people to choose eco-friendly water-conserving landscaping solutions."
Global Syn-Turf, Inc. is the leading synthetic turf manufacturer in America that offers a wide variety of high-quality artificial grass products and supplies. With distribution centers across the country, it stocks and sells products to thousands of local distributors trained and authorized to provide professions installations to commercial and residential customers, municipalities, athletic facilities and professional golf courses in North America and Canada.