From the magnifying lenses of the 13th century to the printing press, developed around 1440 in Mainz, Germany and the steam engine dated back to 1968, to the electric light pioneered by Humphry Davy in the early 19th, the technological innovations are constantly changing the course of human history. It's hard to imagine times when we had no paper currency, steel, antibiotics, or vaccinations. We can have a safer life without an Atomic Bomb, but without a wheel, Facebook apps wouldn't get far. Technological innovations transform life on the Earth wrecking chaos in nature and making us anxious. It protects from small uncertainties leaving us vulnerable to the biggies.
We are guided by Google Maps embarking on reviews before spending money on activities, ask Quora before getting into an argument with a landlord, and satisfy our cravings for zero human contact by ordering a food delivery service. As much as we like to think, "it doesn't happen," or "we aren't missing much," technology can't replace nature, and we are missing plenty. Giving back to the planet is becoming a moral imperative, and there are people, companies, and institutions who are working with innovative products and technology that helps to restore damaged ecosystems, enhance the biodiversity and economic vitality and raise social responsibility.
Nowadays, speaking about green, eco-friendly products are trendy. The word "green" is not a color, at least, not anymore. It became a proverb for a broad range of environmentally-friendly "everything." Eco-friendly means something that doesn't harm the planet, more precisely, eco-friendly activities or products "don't compromise the ability of future generations to meet their needs," according to the United Nations. If someone speaks of sustainability, they mean the things that are generating future environmental, social, and economic benefits and not using too many resources or causing harm to the environment. Sustainable products have much higher standards than "green" or "eco-friendly."
For example, LED lighting and recycled plastic packaging are often advertised as "green," but when you take into account their environmental consequences, they are not sustainable. Marketers want us to believe that a hybrid SUV with a higher fuel economy is "greener" than a conventional, same-size SUV. But hybrid cars use electricity from natural gas over renewable electricity (not over coal-based one.) Suddenly, the hybrid SUV is not as green as most people think.
In 2014, Isamu Akasaki, Hiroshi Amano, and Shuji Nakamura earned Nobel Prize in Physics by the invention of the blue LED light. It was, indeed, the fundamental transformation in lighting technology. LED are energy-efficient, and you would think they are "green" and eco-friendly. But the analysis of overall use of lighting shows a different trend. Since LED bulbs are cheaper, the total consumption of electricity is far from saturated. It's called a direct rebound effect.
A real-life test of "green" products suggests the unintended market effects such as the increasing rate these products are used. People are getting rid of old vehicles and buy a new eco-friendly version more so than before. Homeowners and companies are installing LED-screen soda fountains, illuminate more areas, leave lights longer, which means net-related environmental impacts.
How can we evaluate if the product is as "green" as advertised? If you look to the core of what's happening on the market, most green claims are elusive unless an overall business activity is a net green.
Measuring Environmental Impact
In 1993, a senior scientist Robert K. Watson started to spearhead a LEED certification program to help builders and building contractors be environmentally responsible in using resources. This initiative grew into a complex system of standards. By 2019, it covers design, construction, operation, and the maintenance of buildings, thermal, visual and acoustic comfort, air quality, energy performance, and environmental safety. Participants gain IEQ credits by following various green standards of environmental quality and the potential health benefits as lighting, daylighting, views, thermal comfort, the level of volatile organic compounds, acoustics, cleanliness and maintenance, textures and colors, ceiling heights, shading and window access, surface finished, and furniture comfort and adjustability.
Most buildings in the United States are built to code. LEED certified improvements are intended to be energy-efficient. They cost more initially, but they reduce operational costs and add health benefits to people who live or work inside.
Global Syn-Turf, Inc. is a member of the U.S. Green Building Council and LEED Certification. For the GST builders and contractors, it means the ability to earn LEED points in water efficient landscaping, recycled content and material, and innovative design categories. Artificial grass by Global Syn-Turf offers water-efficient landscaping, recycled content (the utilization of post-consumer waste), and unconventional material application.
Besides major home-improvement innovations like artificial grass that helps to replace chemicals-heavy, water-thirsty lawns with virtually no maintenance, water-efficient, always green outdoor surface, there are a few sustainable initiatives that are changing the world.
AirCarbon, LanzaTech, & Mango Materials: Sustainable Plastic
AirCarbon is invented by Newlight Technologies, a company based in Huntington Beach, California. According to Popular Science, plastic manufacturing created as much carbon dioxide as actual plastic. AirCarbon technology does the opposite - it captures and resequences carbon emission to produce plastic. Newlight Technologies uses methane generated by dairy farms waste lagoons. Enzymes combine the gas with air in the bioreactor to create a polymer. AirCarbon functions identical to oil-based plastics but costs much less. Now, this material is used in desk chairs, Dell computer packaging, and Sprint smartphone cases.
Producing plastic from methane started with LanzaTech, and it remains the biggest company in this sector. The biotech company works with all sorts of sustainable sources of energy; it turns factories' carbon emissions into ethanol, blended with gasoline, reduces the amount of fuel. The LanzaTech method doesn't need land to grow corn and herbs, used to produce ethanol used by companies today. It uses rabbit-gut bacteria to ferment the waste gas from factories. It's real game-changer for the transportation and aviation industries.
Notpla: made from seaweed and plants that disappear
With more than 35 billion plastic bottles discarded in the United States every year, Rodrigo Garcia Gonzales and his start-up came up with a breakthrough solution - the Ooho! They found a way to make biodegradable water-filled beads from algae and calcium chloride. You need to puncture a membrane to get inside; the case will degrade in six weeks. Ooho! can be used for water, liquids, spirits, and cosmetics.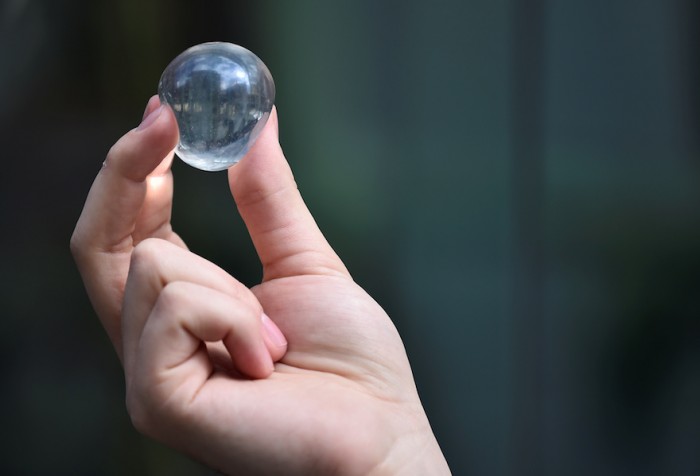 Ooho! biodegradable water-filled beads from algae and calcium chloride
700
476
HomeBiogas: Turns Waste Into Clean Energy
HomeBiogas started back in 2007 in Israel. It commercialized in 2016 with the help of the Indiegogo campaign and also raised funds with Kickstarter. The system enables to turn food scraps, fruits, meat, veggies into renewable energy. The biogas floats into the gas bag you can use to cook your meals. You can use it for stove-top cooking or produce a high-quality liquid fertilizer. HomeBioags generated up to 2 hours of cooking gas and fertilizer daily.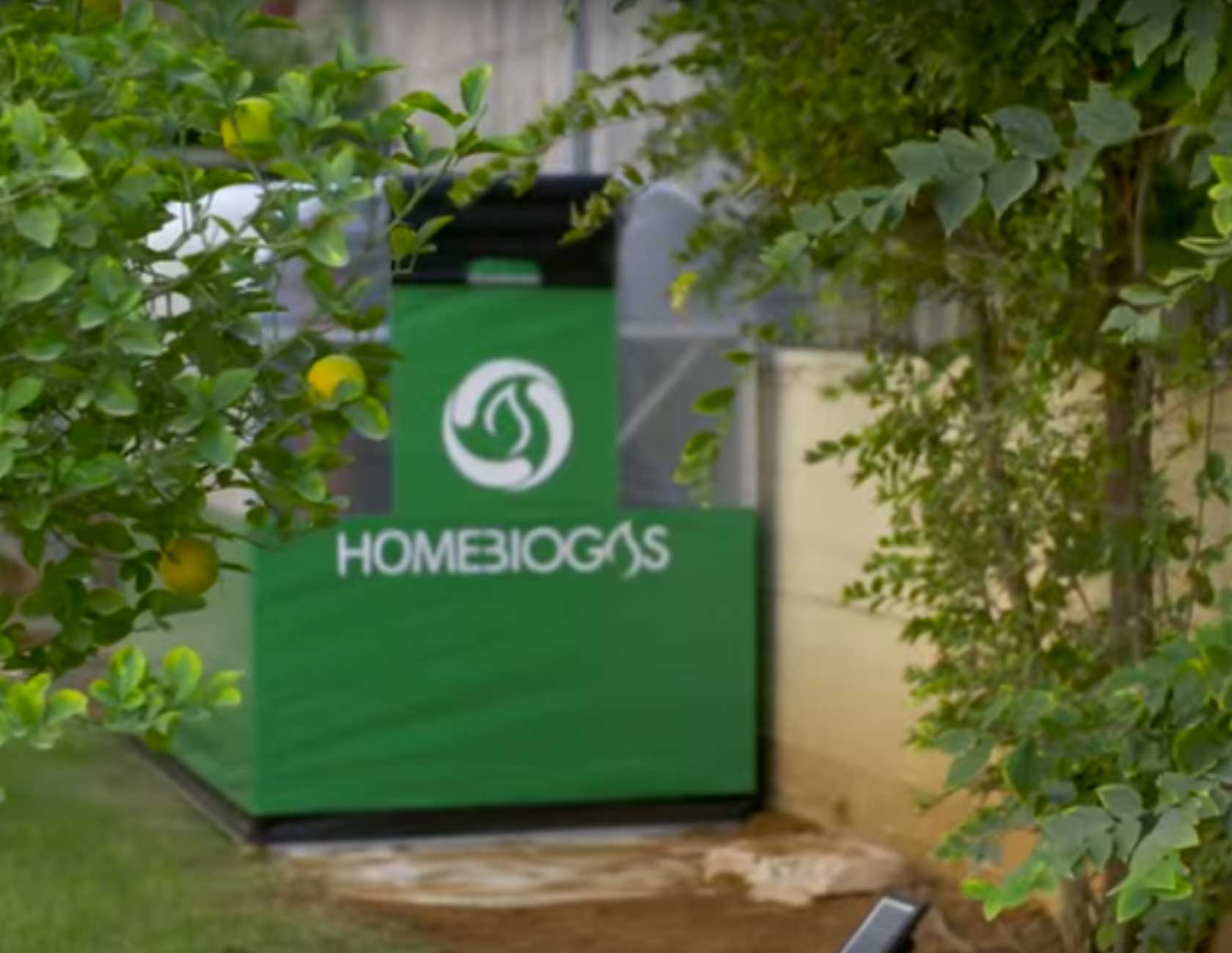 HomeBiogas in a back yard looks like a tent
1680
1300
The Living Things: Spirulina Lamps & Photosynthetic Furniture
An architectural designer Jacob Douenias and industrial designer Ethan Frier partnered to create furniture that ... creates. The objects are filled with tiny, edible bacteria like spirulina that functions as luminous light sources. According to designers, "the living structures recycles light, heat, and carbon dioxide from buildings and people inside them into rich green biomass that can be used as sustenance, fertilizer and converted to biofuel." The system can be integrated into daily life. Wall-mounted lamps are filled with glowing, living algae.
Lamps filled with glowing, living algae
5616
3744
Living Microalgae Lamp Absorbs CO2 from the Air
French biochemist Pierre Calleja has created an eco-friendly lamp that can light up big open spaces like streets and parking lots while absorbing CO2 emissions. It doesn't need electricity and powered by a tube filled with living green algae. The lamp uses the energy of algae's photosynthesis to generate the light, while the micro bacteria feed on CO2 in the air outside.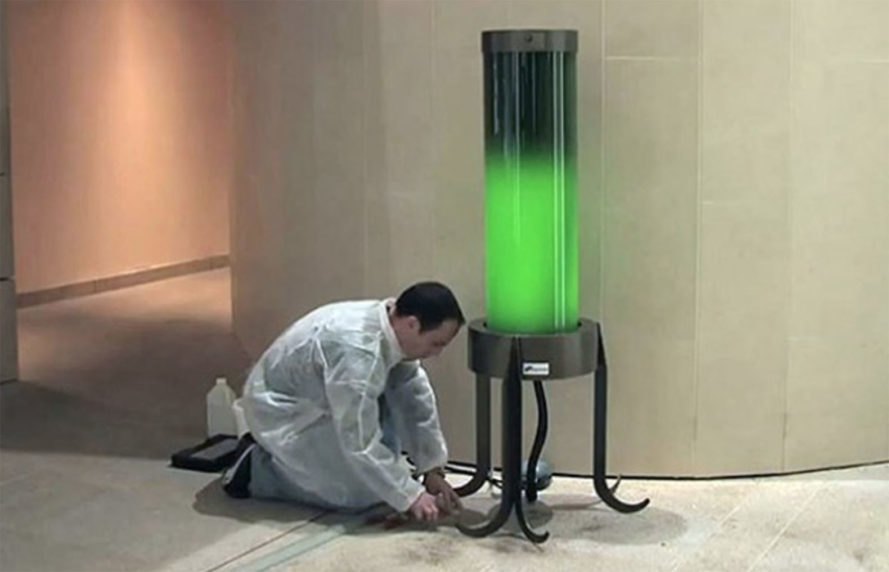 Living Microalgae Lamp Absorbs CO2 from the Air
889
572
Eco-Cooler Made from Plastic Bottles
It gets hot in Bangladeshi, and many people can't afford the air conditioning. Ashis Paul invented a way to make air conditioning units out of plastic bottles. That's brilliant and very easy to make. You cut plastic bottles, mount them on a board, place over a window, and voila! The change in pressure when air entered the wider part of the bottle and comes out through a bottleneck cools the air. It decreases the temperature by 41 degrees of Fahrenheit immediately.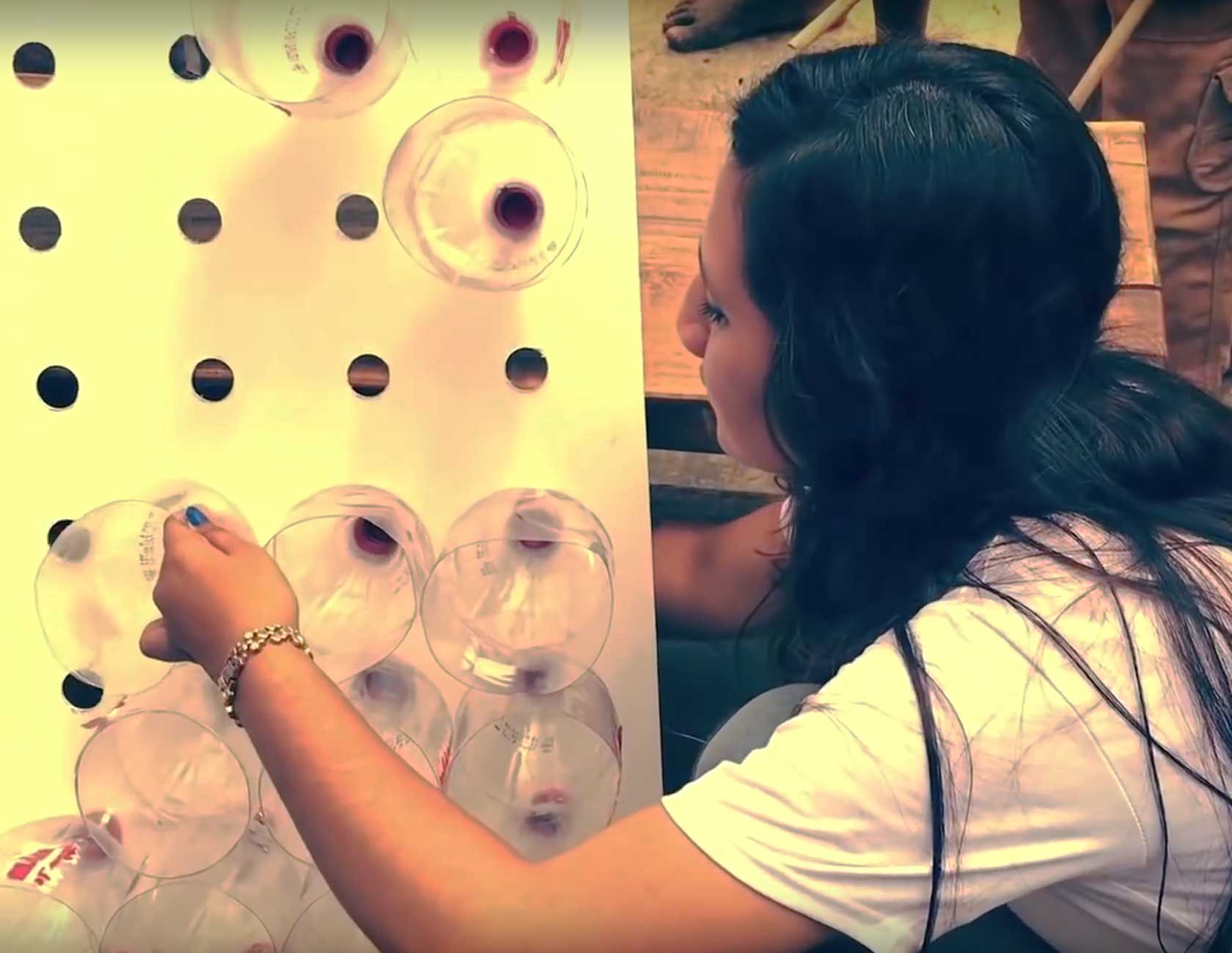 A woman makes Eco-Cooler from Plastic Bottles
1680
1300
SALt - Powered by Tap Water & Salt
The company called Sustainable Alternative Lighting (SALt - Philippines) got the 2015 Young Entrepreneurs Award. Led by engineer Lipa Aisa Mijena, with as little as $10,000-50,000 budget, the team developed a sustainable and ecologically designed lamp powered by tap water and table salt. The lamp operates 8 hours a day, and with proper maintenance, it has a lifespan of six months. Yeah, it doesn't need batteries or electricity.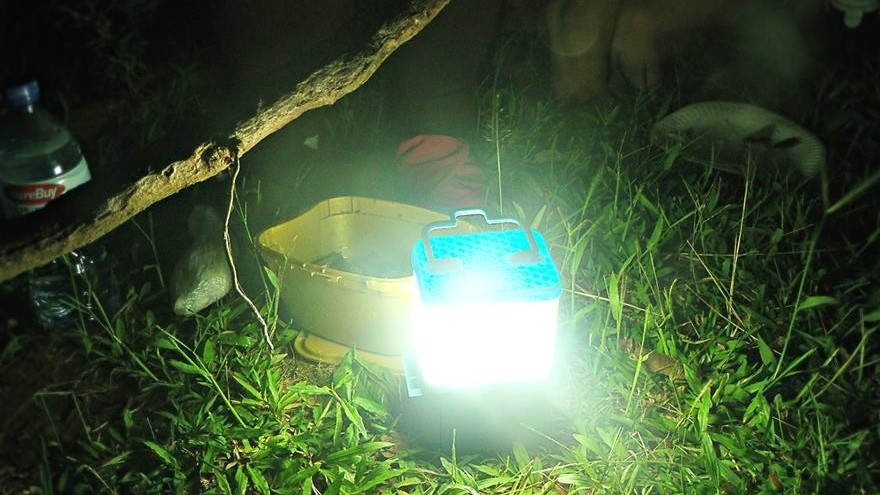 SALt - Powered by Tap Water & Salt
880
495
EcoATM: Smartphone Recycling for Cash
If you have an old, dropped, or used a smartphone, you can get cash by dropping it in the EcoATM. The process is so friendly and simple; police believe it's fueling a most pervasive type of criminal trend - the cellphone theft. You can't blame EcoATM for the criminal records, as they check the devices' ID against police databases, but the database isn't sufficient to stop the growing international problem of stolen phone beings reused abroad. The company says: "Get green for getting green!" The Outerwall Inc, previously Coinstar, bought EcoATM for $350 million in cash in 2013. As it's been seen, the environmentally-minded business model continuously resonates with today's savvy consumers.
Solar Impulse Solar Aircraft
The Swiss solar aircraft can make more than 40,000 kilometers, or 49 hours of flight time, without a single drop of fuel. Unveiled in 2009, the plane made it into history as the first aircraft to fly through the night in 2010. Si2 presented in 2014, is larger and more powerful. It can only carry a pilot, and weight about as much as SUV. The idea costs $177 million and has 100 people on the team. It was meant to carry messages, not passengers, so it may never make to the commercial aviation. But the inventors believe that the tour is just starting for the Solar Impulse. The pioneering spirit escalated inspiration among innovators. Swiss lift and escalator manufacturer Schindler decided to create a solar-powered elevator. Engineers have also been looking into the feasibility of solar drones.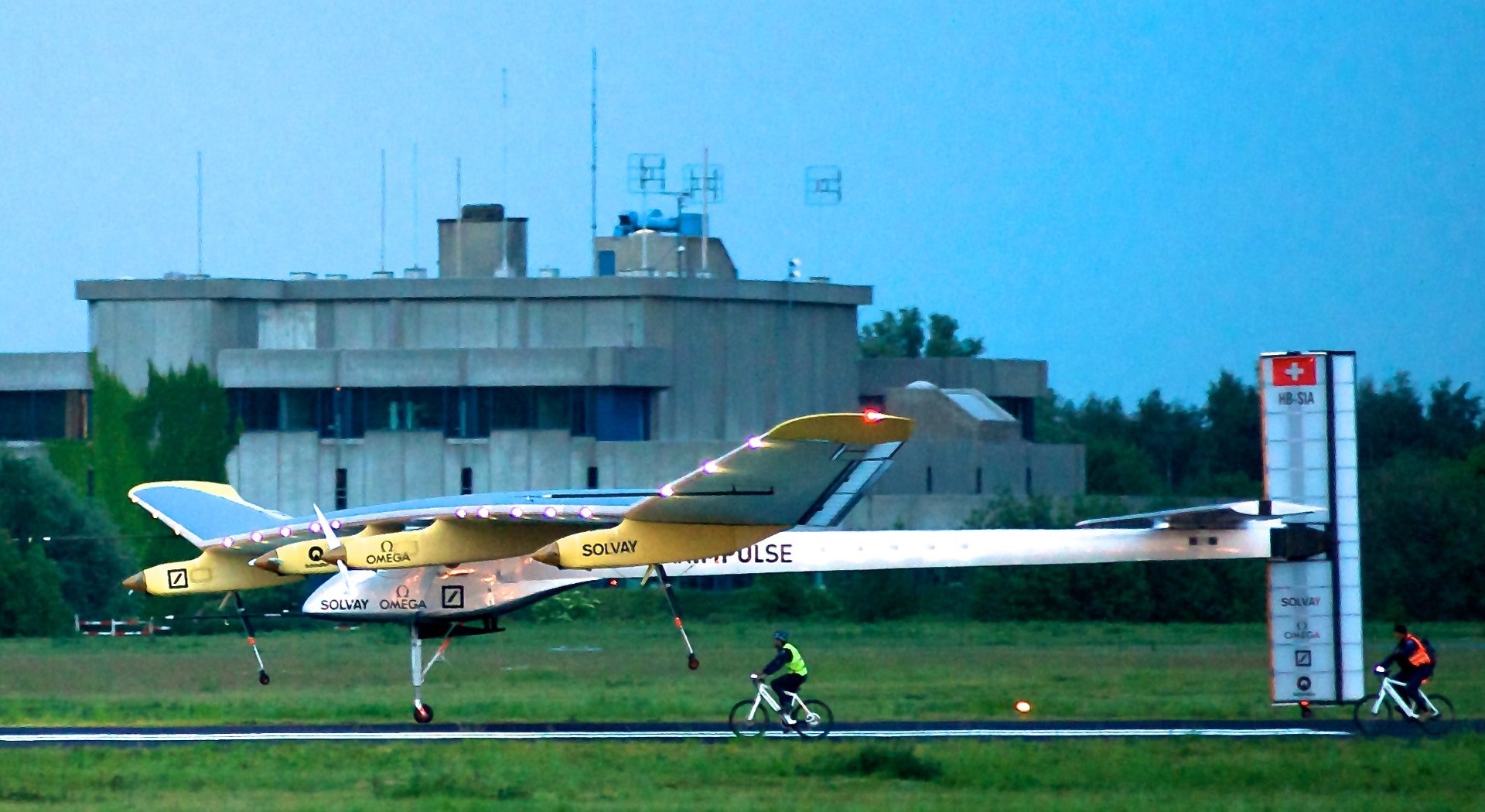 Solar Impulse Solar Aircraft
1920
1050