Why People Buy Online
Convenience
Online stores offer ultimate shopping experience; they are open 24/7. People rather browse the web in their slippers and have the package delivered in their doorstep than to take a shower, put on clothes, get stuck in traffic, and wait in lines. You don't need to walk or drive from one store to another to find items.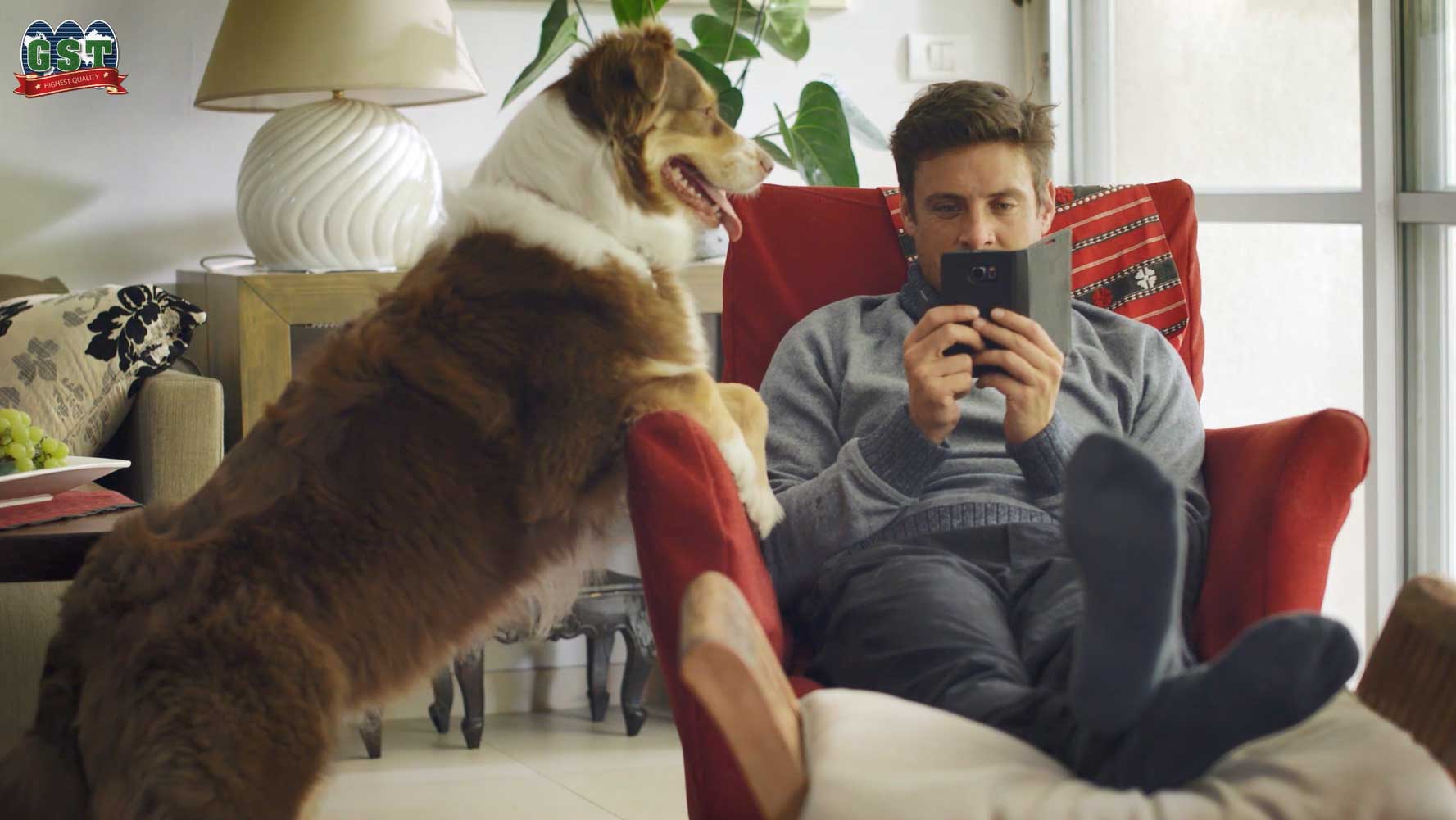 Man sitting in a chair buying online and a big dog
1777
1001
Better prices
Unlike local retail stores, web-stores have a less operational expense. They don't need to pay rent, electricity, payroll, fixtures and shrinkage loss. This results in significant savings for customers. Often there are great deals online. However, don't assume everything online is cheaper. You can get worse deals online because website owners count on your low price expectations and often price their products higher.
Instant Gratification
People are hardwired to want things now, without delay or deferment. It's when you want it, and you want it now. It's especially true for people with an immediate gratification nervous system type. They like online shopping where purchases are one click away.
Anonymousity
Some shoppers are addictive to online experience because they have social anxiety; they don't like to deal with a crowded mall or the social interaction of checking out. For people who want to hide their shopping habits, the privacy of online shopping feels more comfortable.
Variety of Choices
Shoppers who inherently love a ton of variety, prefer online shopping. But it doesn't work for everyone. The product variety and complexity of choice overload can turn some people off. Researchers found that giving too many pictures overloads the brain and delays buying.
Delayed Gratification
People love shopping, but we are also inherently lazy. It's so much easier to shop online, wearing cozy slippers, and have your purchases delivered to your door. But what's more important, you have to wait at least a couple of days for your delivery. Just like on Christmas time, you see gifts under the tree but have to wait for your presents, making you desire them even more. In psychology, it's called delayed gratification.
Delayed gratification has a strong brain response. When you make a purchase online, dopamine (brain's neurotransmitter responsible for contributing feelings of pleasures and satisfaction) jumps up. When you wait for your item, a slower and more drawn-out neural reward systems start to play, leading to high anticipation and pleasure.
Most retailers believe that impulse shopping is easier online, but it's not true. Too many options often lead to a bias to not buy. This is why you might have your cart full, but at the last second, you realize that you can't decide, and don't buy anything.
Why People Don't Buy Artificial Grass Online
So why aren't people buying turf for their synthetic turf at the same rate they are buying TVs, laptops, clothes, herbal supplements and gadgets?
Inconvenient
Buying synthetic turf online isn't convenient, and convenience is the number one reason people buy online. Why isn't buying synthetic turf online convenience? It requires work. Most people don't even know where to start. Who do I buy from? What's the exact type of turf I need? How much turf do I need? Will I get ripped off? Which brings us to the next point...
Technology is Not There Yet
Until a big online retailer like Amazon starts to sell custom size turf, people will call installation companies instead of ordering online.
No Cost Advantage
Most shoppers will buy products online when they can be assured of saving money. However, the cost of delivery and sales tax eats all the savings you've been promised. High pile, cushy turf weigh more and wider than cheaper, short pile grass. Amazon cut costs by centralizing their products in out-of-state warehouses; they can use national shipping infrastructures to cut shipping costs.
Wholesale websites don't have enough cash flow to send out multiple airplanes or even several trucks a day to destinations across a country. Wholesale synthetic turf is not the same as the "wholesale" shipping.
Shoppers Dislike Delivery Time Windows
The last thing you want to do is replace spontaneous online experience with an ordeal similar to waiting for a cable installation service. Online retailers have no control over delivery companies. FedEx, UPS, and transnational shipping companies delivery time windows aren't built to fit the shopper's schedule. With a "signature required" handoff, there's a need for someone older than 18 y.o. to be at home at the time of delivery, but there's also a problem. Most freight deliveries don't offer real-time truck locations for a package that are out for delivery.
Insecurity
Artificial grass is a major purchase, so protecting the purchase is a big deal. When people buy from a store or directly from the manufacturer, they assume the manufacturer can stay in business because they are big enough and passed the reality check. But most people don't feel as comfortable about online retailers. After all, anyone can set up a web-store.
This is a legitimate reason to avoid buying artificial grass online. Who would want risk sending thousands of dollars over the internet to a company they know only by the website look and a couple of videos on youtube? The key to buying turf online is reducing this risk.
A Dull Experience
Do you know another industry that hasn't caught on the online shopping.? Grocery shopping. It's supposed to be the next big thing during the first dot-com boom in the nineties. Millions of dollars have been invested in online grocery stores, but it failed. The prime reason is a dull experience.
According to the latest FirstInsight report, 71 percent of all surveyed shoppers spent $50 or more when shopping in-store. The impulse shopping is alive and well once you enter inside a location. There is a human side to shopping behavior; you can't mimic online. People like human interactions; they use "retail therapy" to calm down. Journal of Consumer Psychology published a study that reveals how making purchase decisions lessens residual sadness. It's interesting because many retailers believe that consumers act the same online and in-store, but the data proves the opposite.
Artificial grass is no different. People go to the Home Depot, or Lowes, call local installers, ready to be persuaded as to which synthetic turf will be great in their yard. They look at samples, touch, and ask questions. Shoppers come with family and friends to discuss what feels best, and how it fits their plans. None of these are feasible with online shopping. You can research specifications and technical details online, and decide what turf to purchase, but you are not likely will have fun doing so.
Buying artificial grass online is still a new thing for 2019. The savings potential is huge, but since anyone can pretend to be a synthetic turf wholesaler, there is also some risk. You'll have to spend time researching and educating yourself, talking to wholesalers, asking questions on Amazon, looking for reviews and opinions online. Does the time spent on researching and reviewing the fine print worth the potential savings? Or are there any savings after all? It's up to you to decide.
DIY Installation is Not For Everyone
You can buy artificial grass online, but you may still need professional installation. Installing synthetic turf is not an easy task. You need additional materials for a subbase, rental equipment to create a grade for proper drainage, and hardware or glue to put seams together. Most materials you can buy and rent at your local home-improvement store, but also you need to make sure your subbase meets your regional standards. There is one more thing...
Professional installation companies have bulk discounts on turf. Their profit margins are getting squeezed to 20-25 percent for residential markets. That includes the cost of all materials. If you buy turf online and order the installation from your local contractors, you may not find the total cost of your project satisfactory.
How to Buy Artificial Grass Online
If you decide buying artificial grass online is right for you, you need to be prepared to do your homework. You'll have to research the type of turf you need, who you'll buy it from, and the terms of your purchase.
Know what you want
If you have to ask someone's advice on what type of synthetic turf to buy, then don't buy artificial grass online. You must know the exact specifications - types of fibers, face weight, density, thatching, stitch rate, turf gauge, and also infill options. It's crucial to making a successful turf purchase online.
There are people who can help you over the phone. But the problem is, most salespeople in online artificial grass stores have no on-hand experience with any types of landscape installations. They have been taught by marketing teams and may have some terminology handy, but they are sure can't give bullet-proof advice, you need. Synthetic turf costs thousands of dollars, and it's your responsibility to make sure it's right for your yard.
If you don't know what turf you need yet, don't let this become intimidating. Researching a topic can take time, but you can do it.
Find Your Wholesaler
This isn't as easy as you may think. When you search "artificial grass wholesaler" on Google, you'll get millions of results. Unfortunately, many of those aren't what you want. You can buy pieces of turf, but big rolls cut to your size you can only buy in a couple of online shops. True manufacturers don't sell artificial grass to individuals. Nevertheless, the wholesale term refers to anyone who offers discount prices. Keep in mind, anyone can become an online wholesaler, so it does not guarantee great prices.
Pay Attention to Detail
It's important to get the artificial grass wholesaler on the phone. Discuss your need and make sure they make you feel comfortable. You have a lot of details to think about, and much of the answers come from asking the right questions. Here are some of the questions you may ask:
Do you have the product available? Sometimes, turf posted online is not in stock, so it will take time to be delivered.
Who is your local rep, and what is their phone number? Every synthetic turf wholesaler should have a rep in your area that can come out and inspect the turf if there are any issues upon delivery.
Can I have a list of local installation inspectors in case there are any problems? That will help you in a case a rep disagrees that synthetic turf has a defect.
Who pays for shipping? As discussed earlier, shipping cost can be a deal-breaker.
Does synthetic turf has any defects? Sometimes, "wholesalers" sell defective grass, some of them can be minor, but it doesn't hurt to ask this question to protect yourself.
What happens if I find any defects upon delivery?
What are your return charges? Or any charges to inspect turf if I suspect it has defects?
Who pays for return shipping if I have to send turf back?
Who will install my synthetic turf, and how much will it cost? Before buying turf, ask for a list of installers and call them. Make sure the installer has positive reviews. Good installation contractors can help you with questions you have about buying synthetic turf online.
Anything the salesperson tells you over the phone must be in writing. If it's not on a contract, it worth nothing. Read over your contract carefully. Make sure it has all questions and concerns. Ask a company to add to the contract anything you need. It will help you to work out claims with your credit card company.
The Bottom Line
Buying synthetic turf online is possible and have a huge potential for savings. But since any person can start an online shop and say they are an artificial grass wholesaler, they are some risks. You'll have to spend time researching the topic, determine which companies you feel comfortable to do business, and reviewing the fine print on contracts.
Given both the promise and pitfalls, artificial grass online shopping is more a niche curiosity than a household necessity. Can it become wildly accepted as mobile phone technology? Most likely, not.