We live in a consumerist culture, and even when the budget is tight, we are still surrounded with images of beautiful things and continued encouragement to spend, spend, and spend. But please let's remember that buying expensive gifts is not the only way to give. You can choose to give in the way of respect or loyalty. You can set yourself free by giving forgiveness. You can encourage a person to become better. You can simply be kind and compassionate; it's reliably associated with mother-child bonding and other powerful feel-good experiences.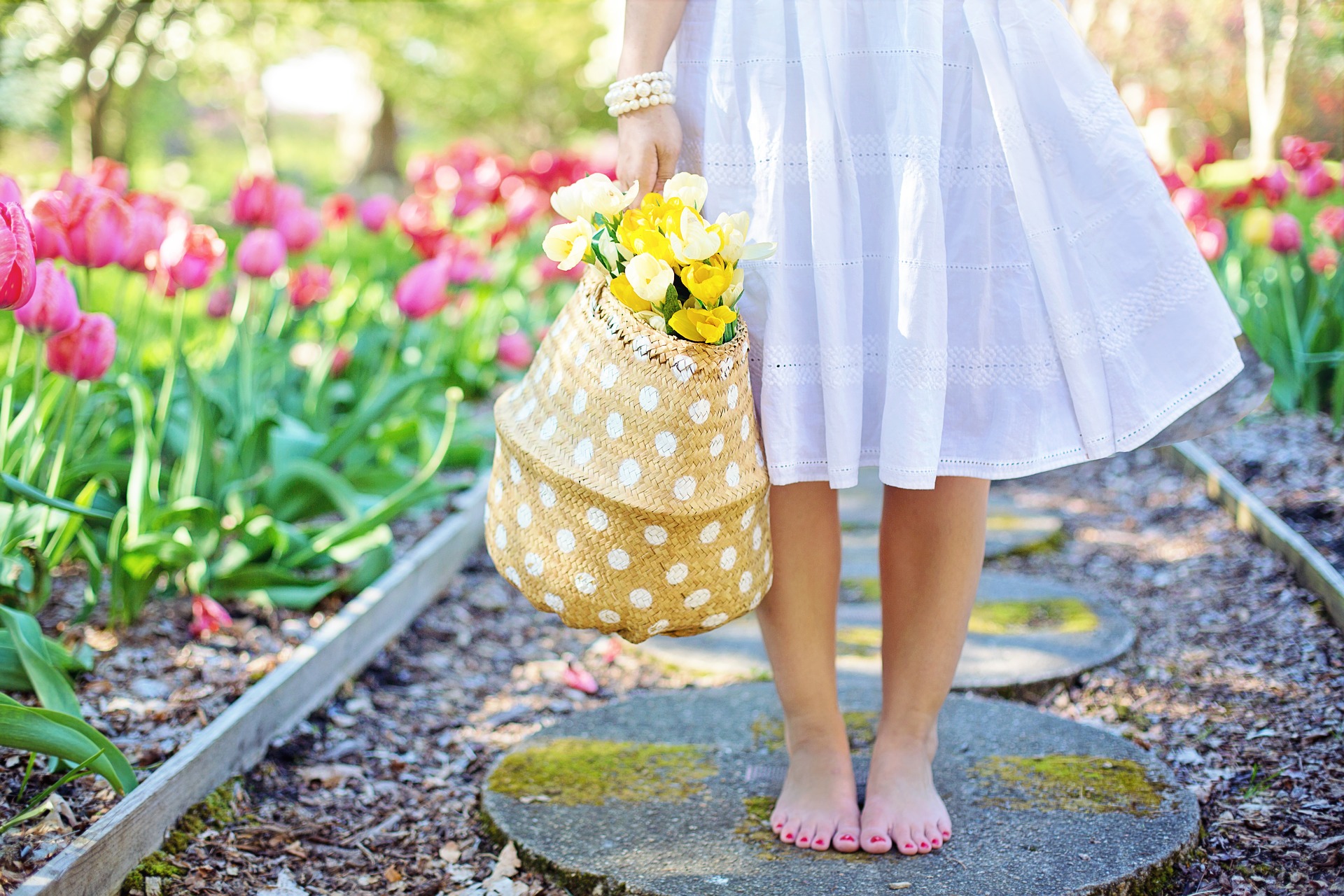 Woman in a garden with basket of flowers
1920
1280
"If you want others to be happy, practice compassion. If you want to be happy, practice compassion." - Dalai Lama.
If you find planning a Mother's day gift a bit stressful, let go the thoughts of making the right impression or gaining your mom's or your relatives' approval with your gift giving. Focus on the most important person - your mother. Most you need is to find comfort in your good intentions; even they are twisted by others into something unrecognizable.
Show you care; it's not about your social image; it's about her physical and emotional well-being. According to recent studies, the "well-wishing" mindset has surprising benefits. Below are some ideas of Mother's day gifts to bring more love and happiness into your life.
Mood Therapy - Multi-Color Outdoor Lights
Whether it's summer or winter, outdoor lighting creates a charming, whimsical look to any outdoor space. With decorative outdoor lights, you can instantly accent favorite aspects or your landscape. Ambient lanterns, candles, and string lights make the pool area, driveway, pergola, gazebo or deck more dramatic and inviting, add security, and promote well-being.
The human's affection for lights is intuitive and has special significance. Scientific research has shown that light therapy treatments helps circulation of oxygenated blood, increase metabolism and promote detoxification. There are numerous regenerative benefits for the immune and nervous systems.
Light also affects our "energetic" body (Chromotherapy.) When we experience negative emotions, our body reacts in a form of stress. Each wavelength, or color of the spectrum, has its nutritional value and resonates with the frequency of our chakras. When we see colored light, it automatically starts to correct any vibrational imbalances and stimulated the body's natural healing process.
The seven colors of the spectrum are considered to be:
Red: Energizing, dynamic, stimulating
Orange: Creative, warming, active
Yellow: Bright mood, positive, confident
Green: Harmony, balance, compassion
Blue: Loyal, calming
Indigo: Insightful, intuitive
Violet: inspirational, transforming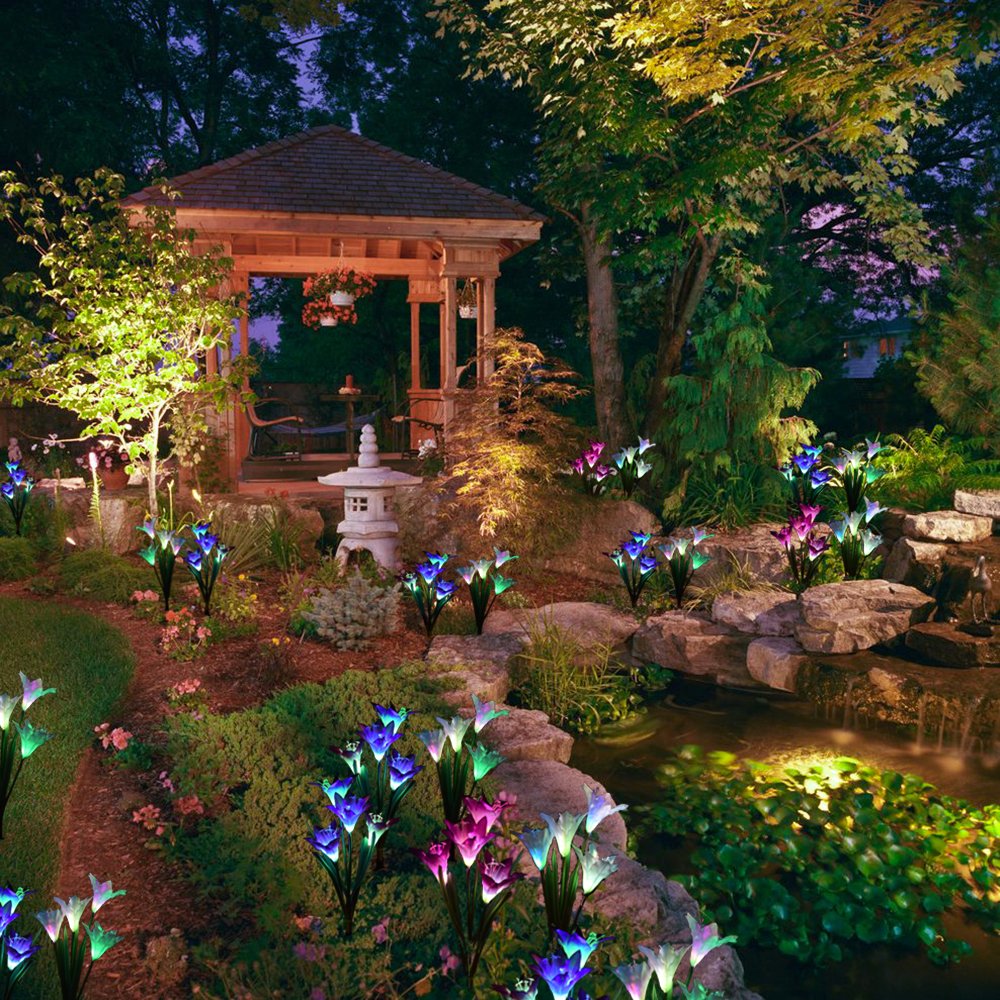 Multi-color Outdoor Garden Lights
1000
1000
Relaxing Sounds - Water Fountains
Water fountains are very popular, especially in Feng Shui gardens. According to Feng Shui, water element can bring wealth and prosperity, promote health and well-being. Whether you or your mom believe in Feng Shui or not, the soothing sound of water draw brings stress relief and relaxation, muffles the neighborhood noise and attract birds that are unwinding to watch.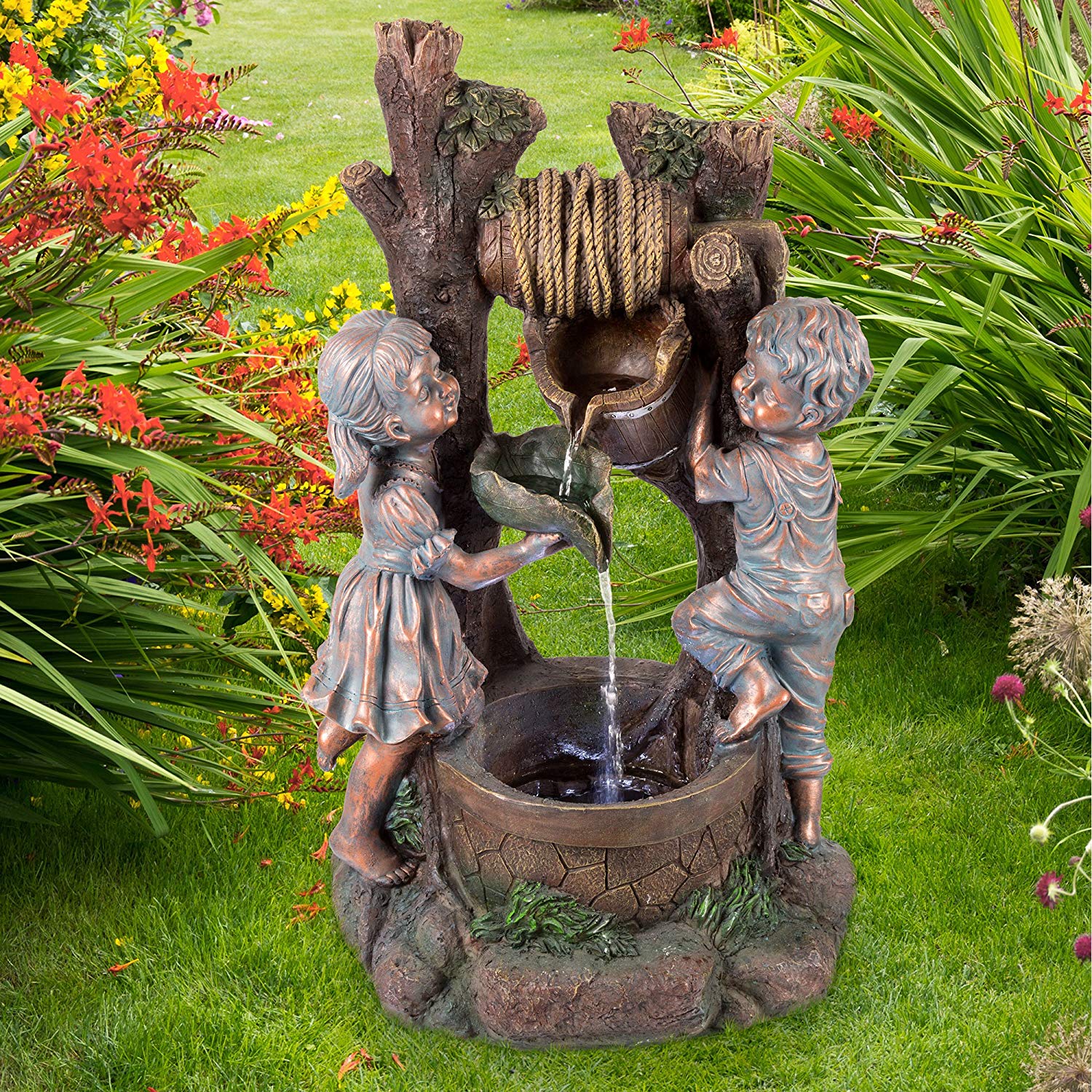 Garden Fountain Gift
1500
1500
Attract Positive Energy with Wind Chimes
The gentle tinkling sound of wind chimes helps to attract positive energy and is believed to suppress ill luck. In Asia, wind chimes are thought to cure negative energy and bring good fortune. In ancient Rome, they were held to protect from evil spirits. Some people report that the sound of wind chimes help them relax and have a better night sleep.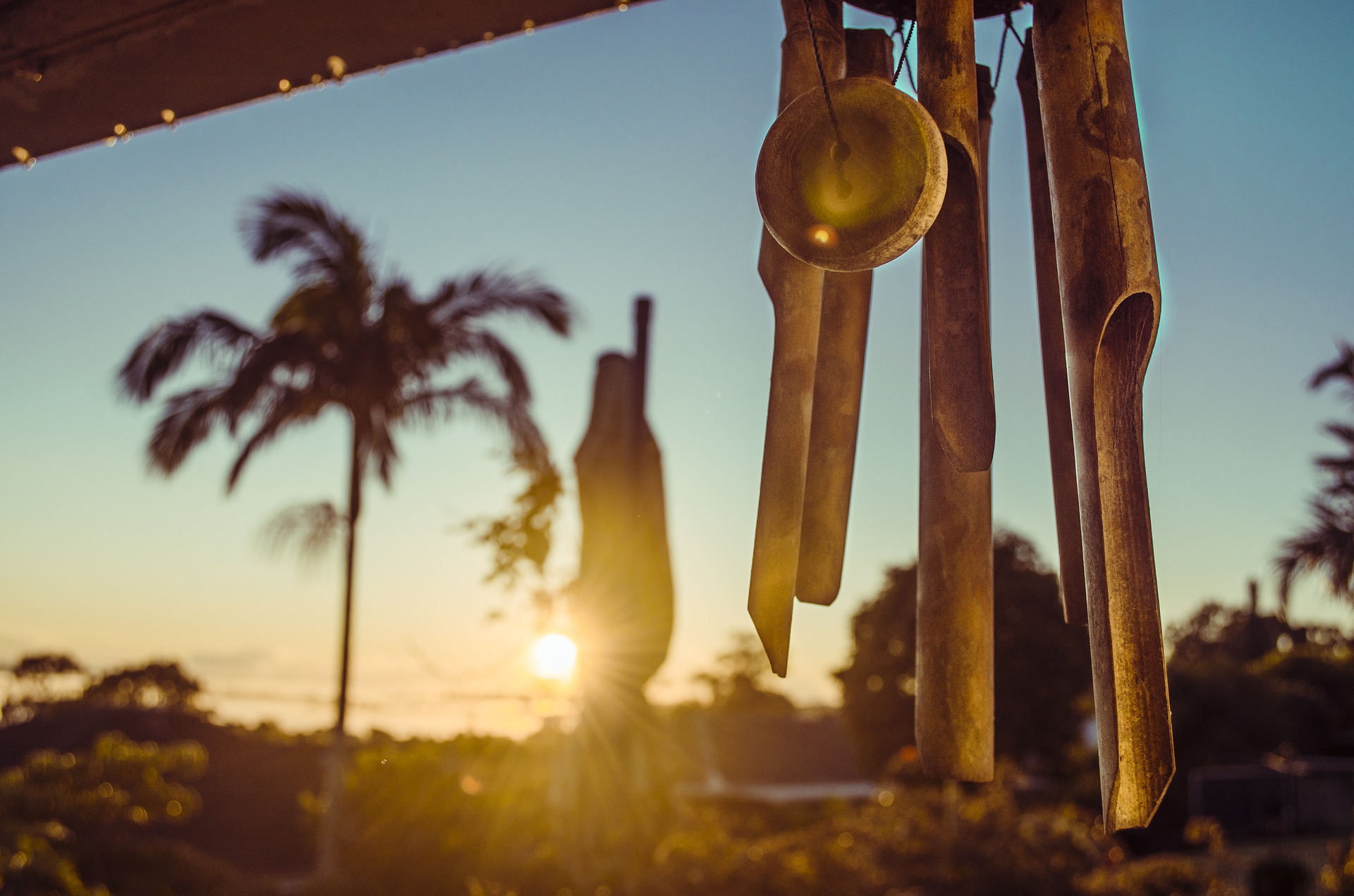 Wind Chimes
1920
1271
Succulent Garden - Stress Relief Geometric Patterns
Have you considered how simply looking at plants induces a feeling of serenity? Succulents that incorporate geometric patterns and spiral are more relaxing the TV. It can change your life. According to Robert C. Barkman, Ph.D., patterns are powerful. They have an ability to train your brain and make you smarter. Identifying a pattern is like looking through a telescope for the first time. As if with new eyes, you see things that you have never seen before.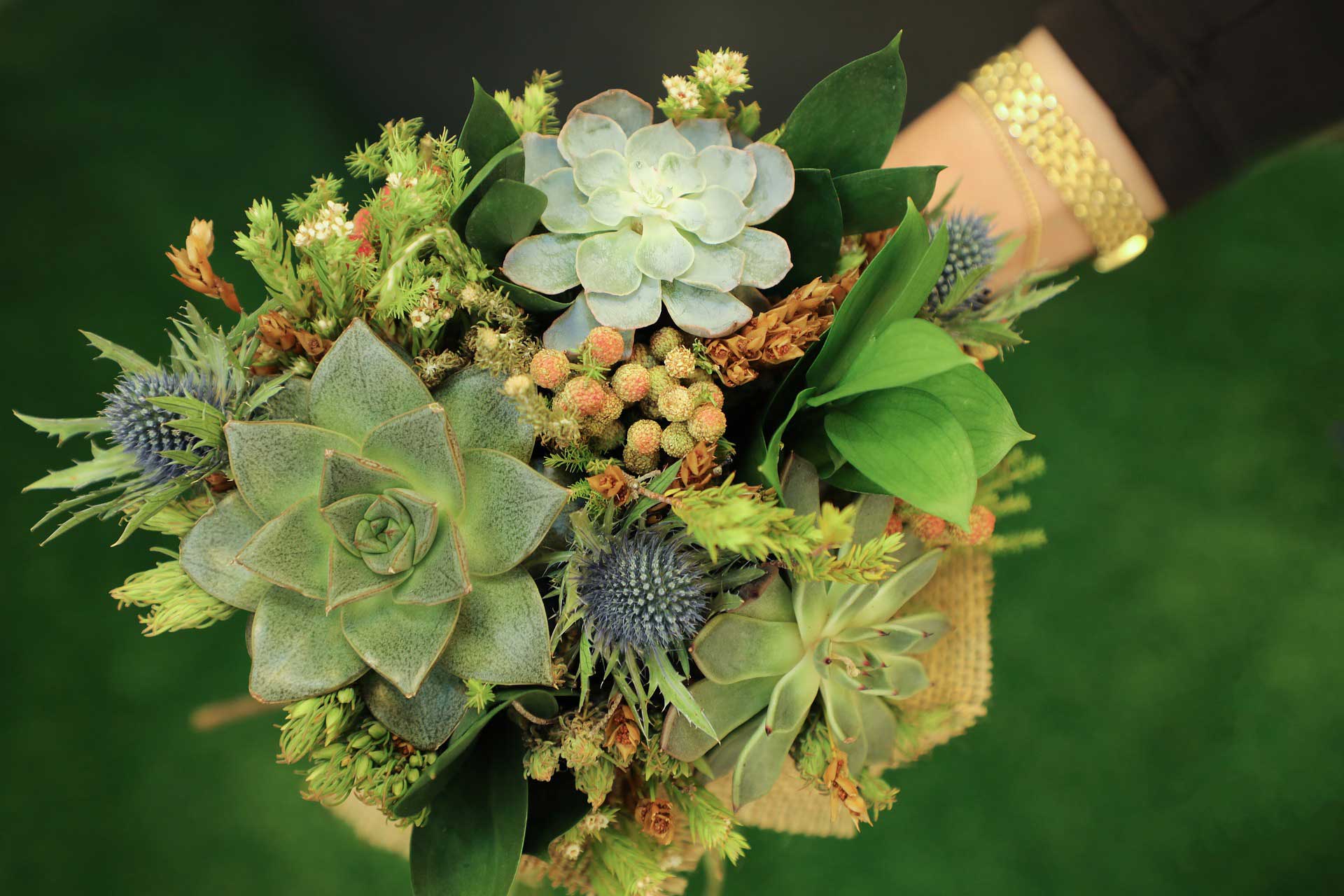 Succulent Garden - Anti-Anxiety Geometric Patterns
1920
1280
Reducing Stress and Anxiety Plants - Aromatherapy
While scent can affect our actions (consider the cinnamon smell at the mall), it's also a great tool to relax, soothe headaches, calm ailments and reduce stresses and strains. There are a numbers of plants that can help you relax: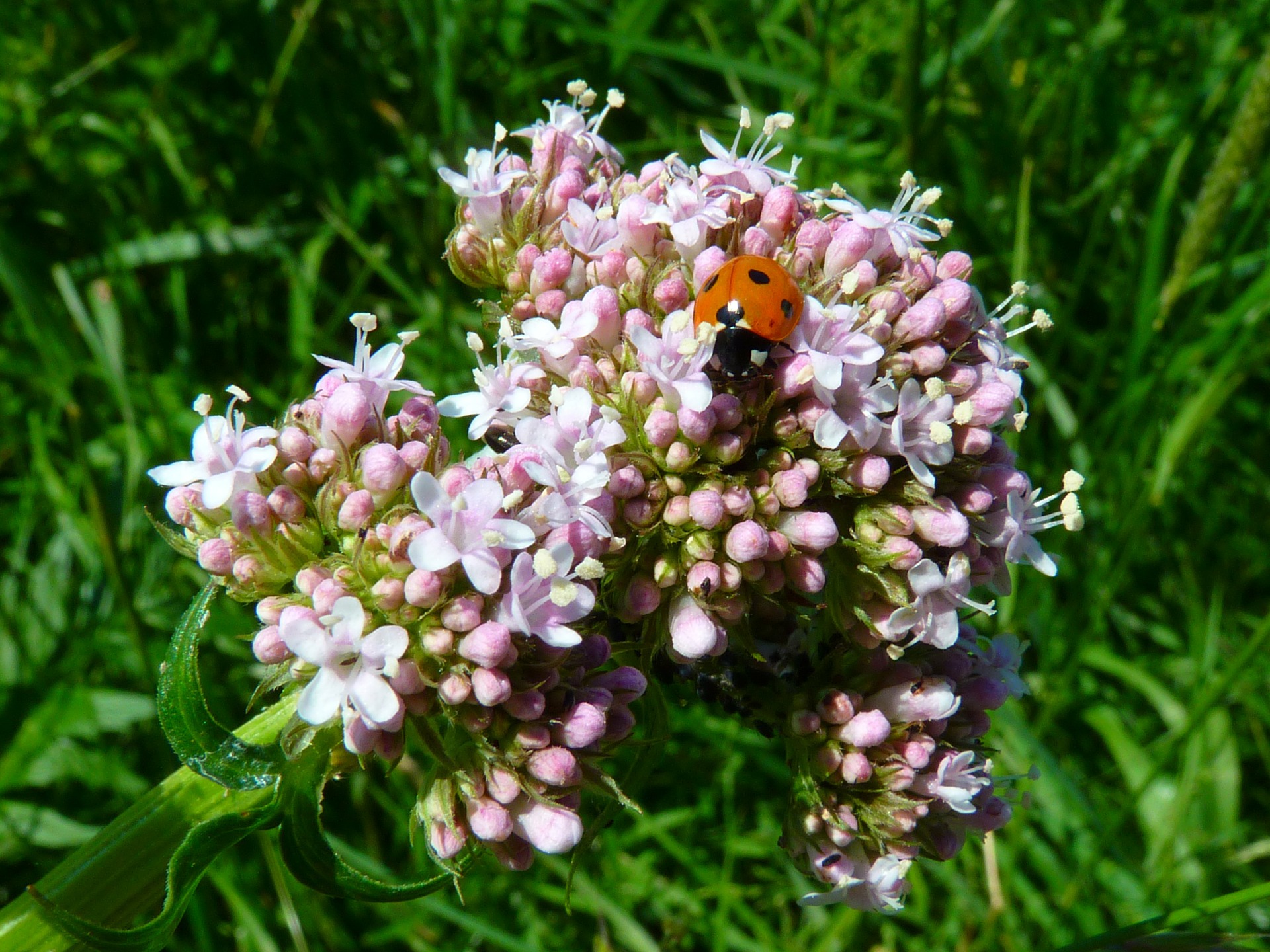 Valerian Flower Plant
1920
1440
Valerian root scent is well-known for anxiety-reducing effects. You can purchase the aromatherapy herbal pack on Amazon, or fill a small pillowcase with dried Valerian root and put it under your pillow at night. If you live in zone 4-9, you can plan Valerian in your yard. It's been used historically to treat insomnia and anxiety. The herb's antispasmodic properties also said to have a positive result on cramps and muscle spasms.
Relaxing for humans, Valerian root is a stimulant for cats. If you have cats, beware, they find the Valerian smell irresistible; it may turn the kitty into ecstatic drool machine, with dancing and rolling around the house.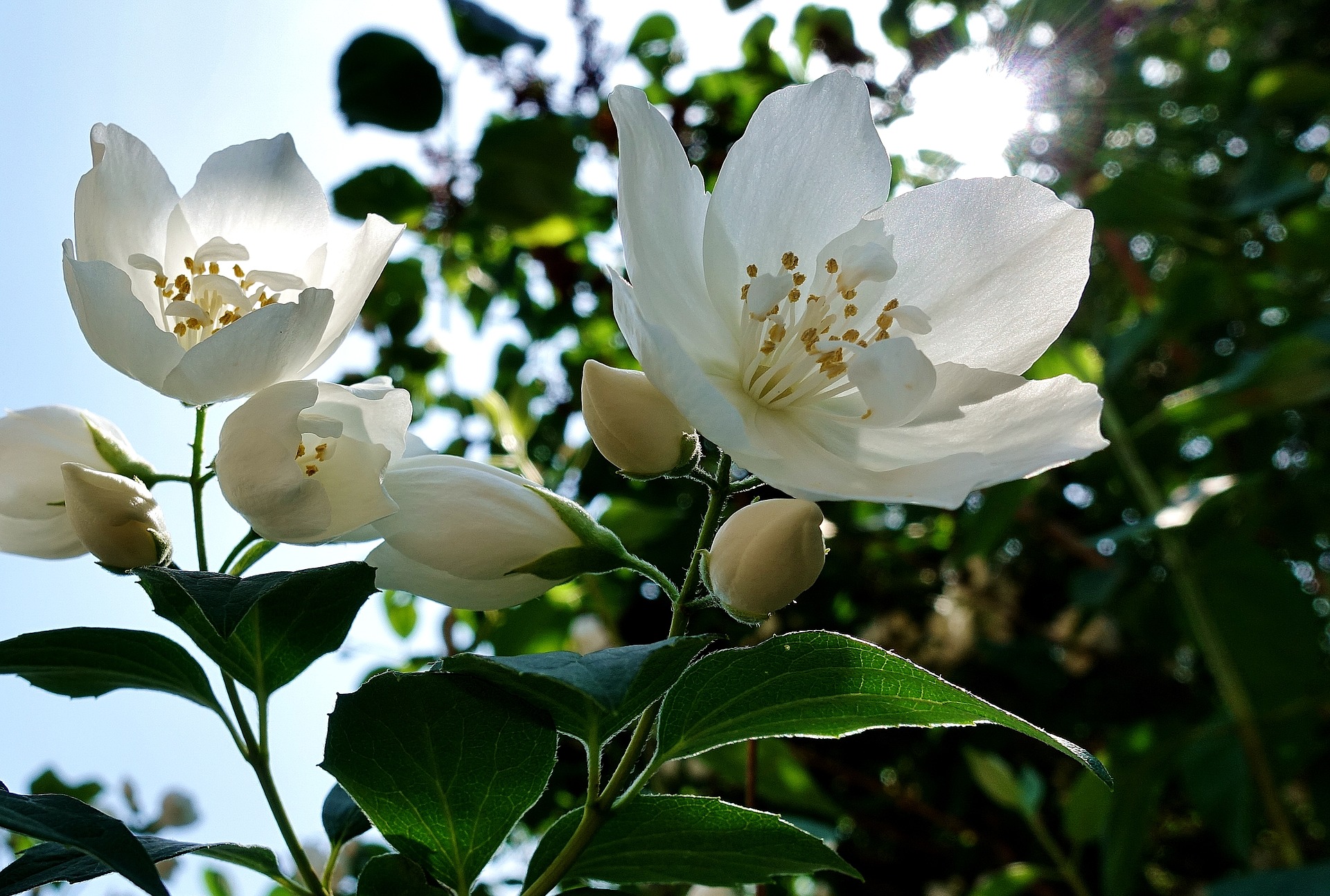 Jasmine white flower
1920
1294
Jasmine scent improves the quality of sleep as well. With flowering jasmine in a yard or indoors, people feel less anxious and more at peace.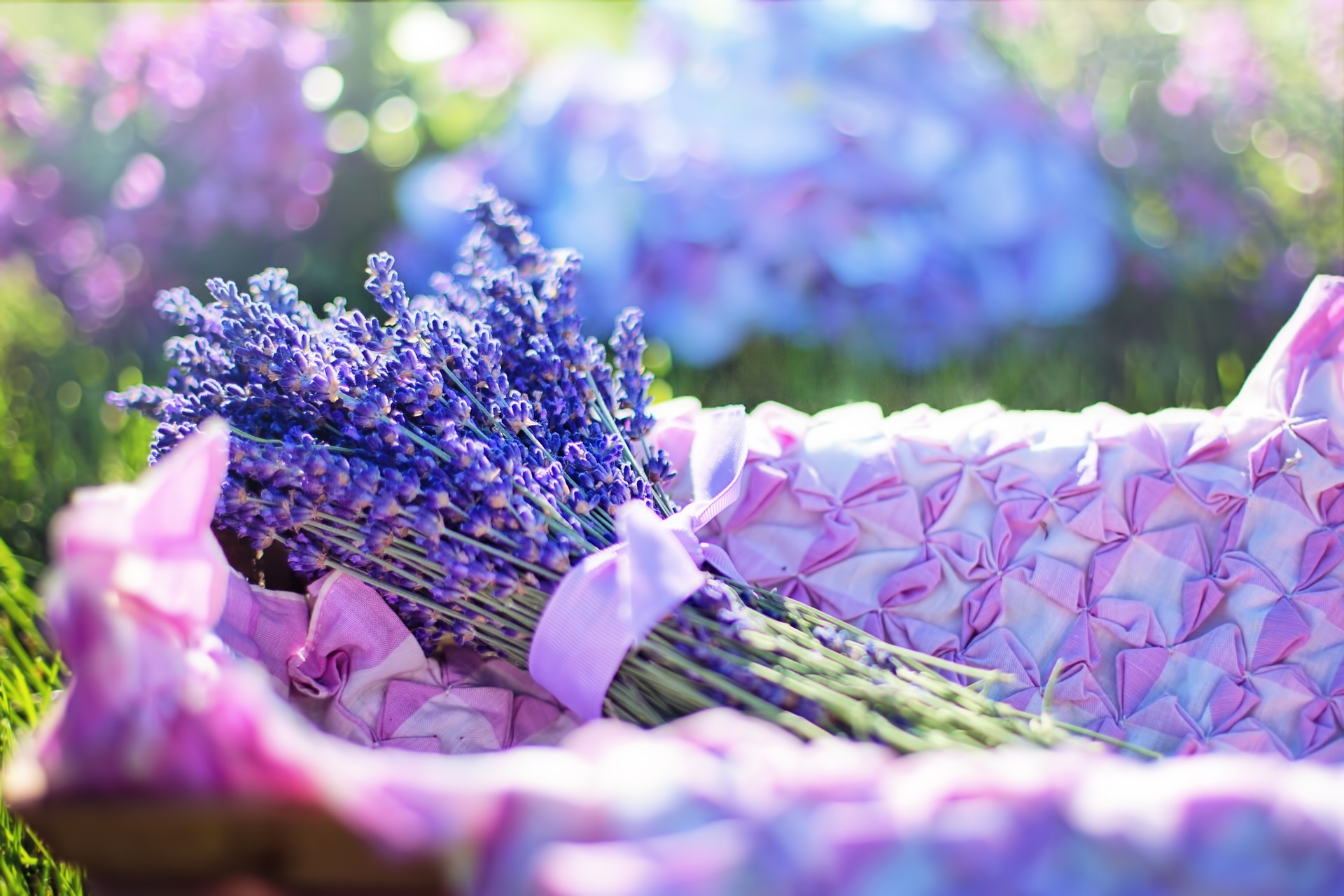 Lavender Flowers in the basket
1920
1280
Lavender has a relaxing fragrance that has been use to quell anxiety and agitation since ancient times. It also gives better night sleep, lowers heart rate and calms down agitated kids.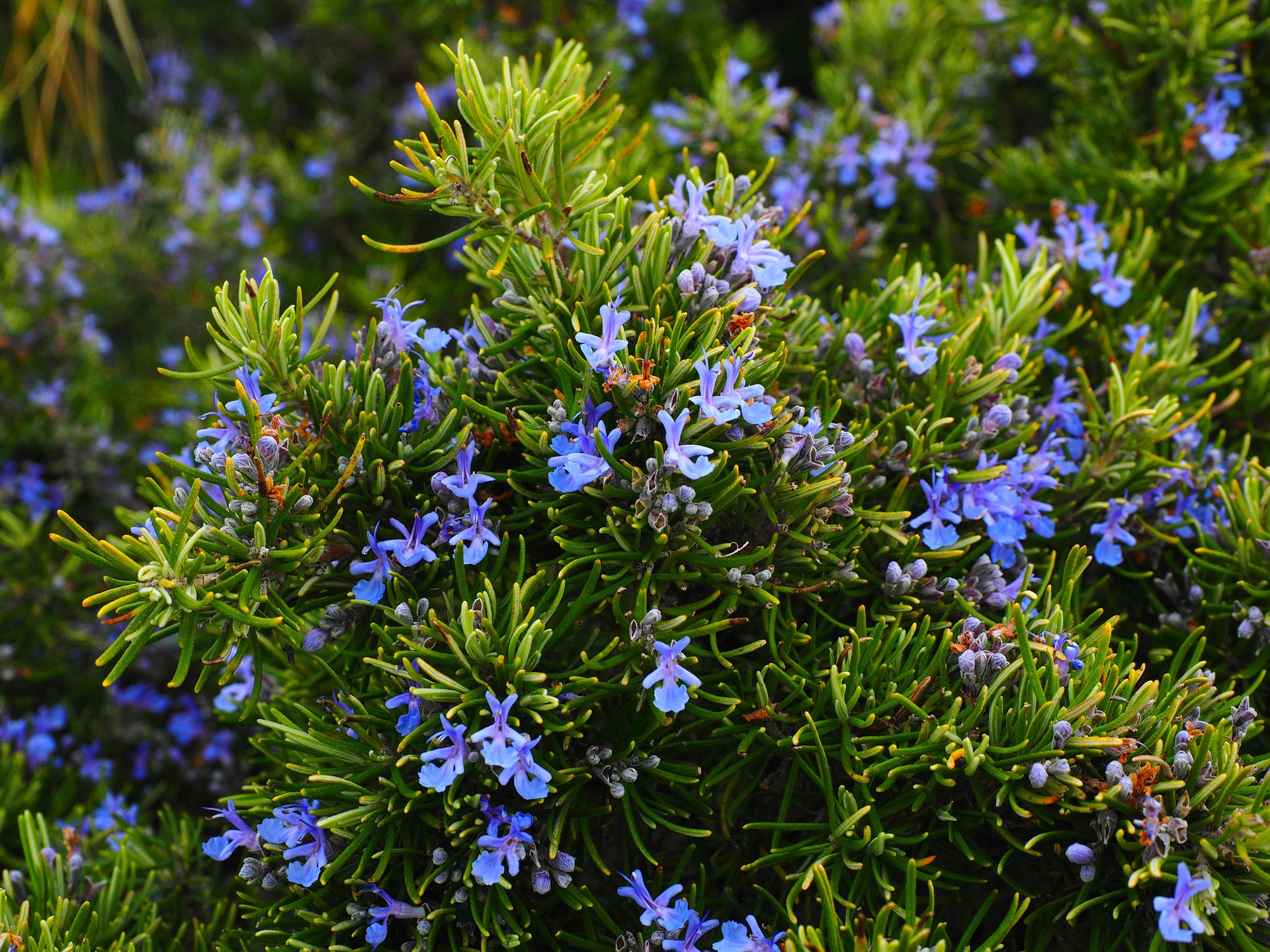 Rosemary blue flowers plant garden
1920
1440
Rosemary indoors is said to improve air quality, but it's also improves memory function and reduces stress and anxiety.
Artificial Grass - Mind Therapy
Artificial grass is a product of technological civilization, but it has incredible anti-anxiety benefits. While gardening has a positive effect on our mental health, when a lawn turns brown from heat, drought, over-watering, or dog abuse, it's hard to relax and let go.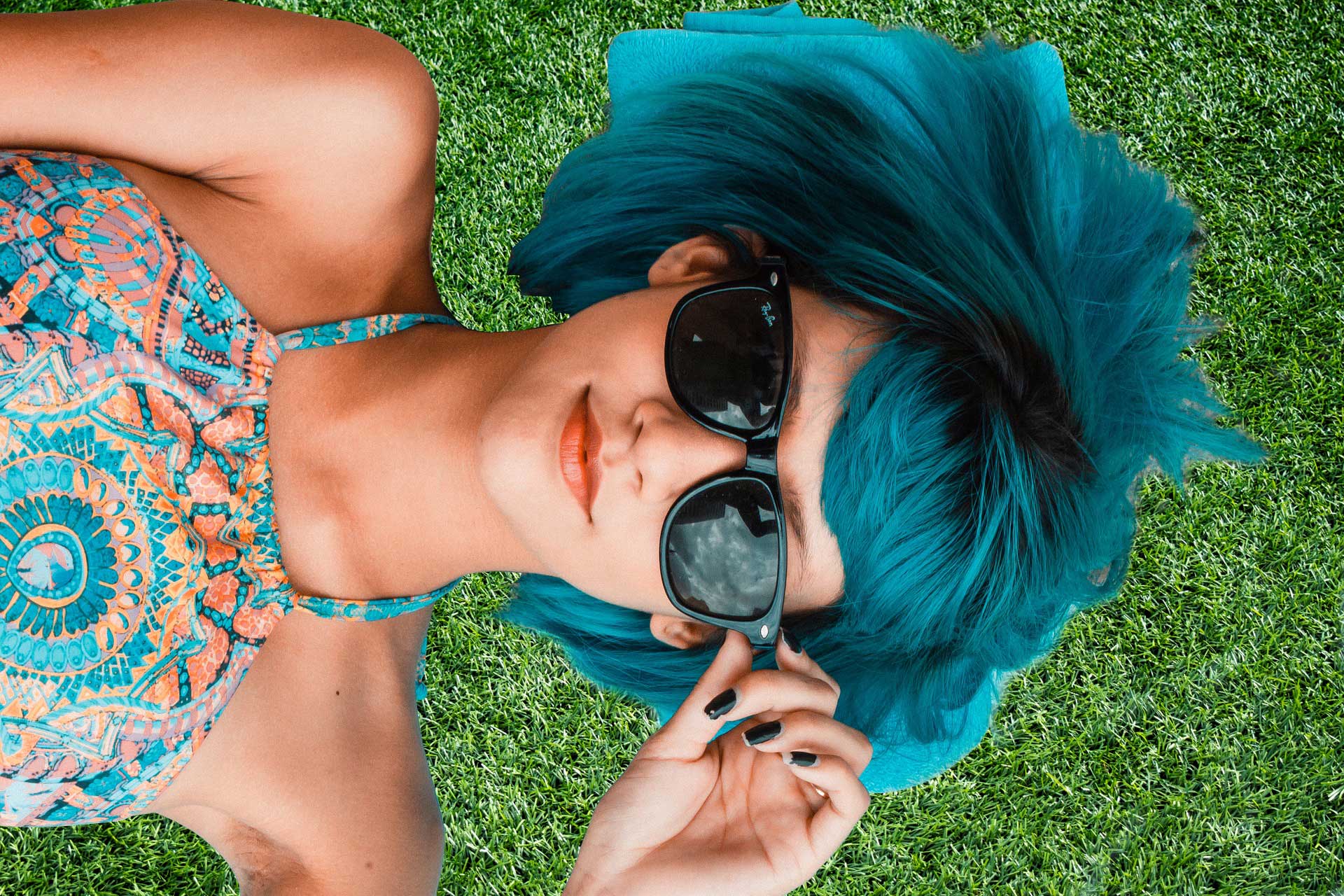 Beautiful woman in dark glasses with blue hair on artificial grass relax
1920
1280
Mowing the lawn is not the favorite cardio exercise for most people. Most lawn mowers are very loud - about 106 decibels, which is earsplitting enough to cause permanent hearing loss. Gas emissions damage the health and has a detrimental effects on our environment.
Monthly bills have a tendency to pile up. When you need to keep a track of your bills every month, year after year for something as simple as your lawn care maintenance, you are slowly losing your drive, edge, and dreams of Tuscan villas and bountiful bank accounts.
Artificial grass can save your thousands of dollars over years. For some people, it's more relaxing than walking out to a beautiful, always green lawn day after day with no single worry about watering, fertilization, weed control, while getting the distinct physical sensation associated with helping our planet Earth to survive human's abuse.
Natural grass is a liability. It takes money out of your pocket. Synthetic lawn is an asset; it puts money in your pocket. People who have a plan for "paying yourself first," that is, investing some of your income in assets that put money back in your pocket, are more flexible and focused and more prone to maintain a spirit of optimism.
Being Thoughtful
For many people, Mother's day is a wonderful experience, just as Christmas and Thanksgiving. For others, who need to cope with unloving and toxic mothers, it might be the worst time of a year. If you are in the first category, Mother's days gifts planning are exciting and fun.
If not, use it to give yourself something special; focus on healing and work on self-compassion. To be happy, we need to love and to be loved. To be satisfied, we need to show we care. It doesn't mean you should purchase things you can't afford.
Buy gifts that are thoughtful, not the most expensive. Gift giving is about the meaning and intentions behind the act of giving, not the financial value.